Tourism Ireland has gifted its six 'Glass of Thrones' stained-glass windows, which celebrate a decade of filming of Game of Thrones in Northern Ireland, to Maritime Belfast Trust, and the windows are now on permanent display on Belfast's Maritime Mile in the Titanic Quarter of the city.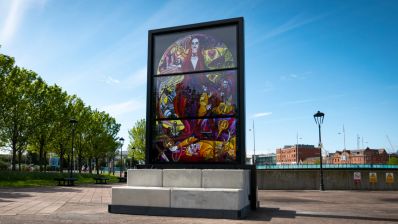 Photo credit: visitBelfast
The beautifully crafted windows were originally installed around Belfast in 2019, to showcase and celebrate Northern Ireland as 'Game of Thrones Territory' to millions of fans of the TV series around the world. The windows – which each depict a different house or legacy from the show – marked a decade of filming and production in Northern Ireland and the installation was timed to coincide with the broadcast of the final season.
The campaign – called 'Glass of Thrones' – was created by Tourism Ireland and Tourism NI, in partnership with HBO, and the designs include the most talked-about scenes from seasons one to seven based on fans' online searches. The installations are dotted along the Maritime Mile, from AC Hotel past Titanic Studios, where Game of Thrones was filmed, to HMS Caroline.
As travel from overseas to Northern Ireland begins to restart, the 'Glass of Thrones' installation will be an important new attraction for fans of the hit TV series visiting Belfast and Northern Ireland.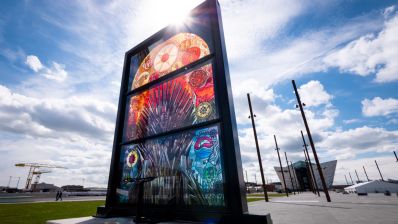 Photo credit: visitBelfast
Shane Clarke, Tourism Ireland's Director of Corporate Services, Policy & Northern Ireland, said: "It is really wonderful that these beautiful pieces of art are now permanently on display in Belfast, as part of the Maritime Mile – enhancing our 'Game of Thrones' offering and creating a new attraction for fans to come and visit.
"As overseas travel to Northern Ireland begins to restart, Tourism Ireland will continue to highlight Northern Ireland around the world, reminding people that Northern Ireland is 'Game of Thrones Territory'. Our aim is to spike their curiosity about the landscapes and locations featured in the series and inspire them to come and explore them for themselves."
One of the most popular and successful fantasy TV series ever made, Game of Thrones was filmed at dozens of locations around Northern Ireland including the iconic Dark Hedges – the Kings Road in the series; Castle Ward, which set the scene for Winterfell, and medieval Inch Abbey, which was used as the set for the Riverlands scenes.
The Dark Hedges © Tourism Northern Ireland
Tourism Ireland's 'Glass of Thrones' campaign in 2019 was seen by more than 4 million Game of Thrones fans in ten markets – including Great Britain, the United States, Canada, Australia, France, Germany, Spain, Italy, the Netherlands and Scandinavia. It delivered positive coverage for Northern Ireland worth over £30 million.
Janet Redler, Chief Executive of Janet Redler Travel and Tourism, added: "The rugged coastline, historic castles and breathtaking scenery of Northern Ireland proved the perfect setting for the filming of Game of Thrones, and fans from all over the world can enjoy visiting many of the locations, which are all within easy reach of Belfast. This new attraction can only help to enhance the Game of Thrones experience."
If your or your group would like to enjoy a tailor-made location tour of the UK or Ireland, following in the footsteps of some of your favourite TV and movie characters, please do contact our friendly team today.