With this spring likely to be the most anticipated in living memory, the National Trust in the UK is inviting people wherever they live to emulate Japan's Hanami – the ancient tradition of viewing and celebrating blossom – with its #BlossomWatch campaign.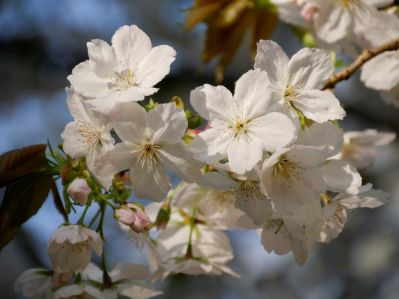 Cherry blossom at Wimpole in Cambridgeshire. Credit: NT Images & Catherine Hayburn.
The conservation charity piloted #BlossomWatch last year when the UK had just entered lockdown. And, with thousands capturing and sharing images of trees in bloom across social media platforms, and four million views in the first two weeks, the Trust is now making it an annual tradition, asking people to share the joy and hope that the sight of blush-tinted blooms will bring to help lift spirits and enable everyone to celebrate nature together.
A growing body of evidence suggests that moments each day noticing nature are vital for wellbeing and building a closer connection with nature, and further evidence also suggests that people derive many of the benefits from online engagement.  Therefore, the Trust is asking people to celebrate blossom, to 'turn social media pink, white and green' over the coming weeks, to mark one of 'nature's greatest spectacles'.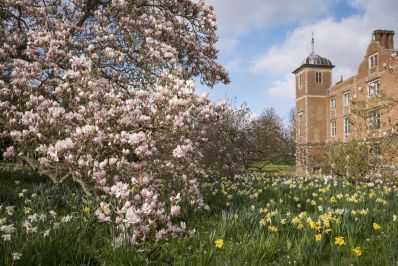 Cherry blossom at Hinton Ampner in Norfolk. Credit: NT Images & Justin Minns.
Simon Toomer, plant conservation specialist at the National Trust said: "Blossom watching is a simple pleasure that can help lift our spirits over the next few months. It can be seen on city streets, in gardens, public parks, throughout the countryside and even out of the window, for some lucky people. 
"Hedgerow blossom typically kicks off the season with the tiny white, frothy blackthorn flowers crisscrossing the countryside before tree blossom like magnolias start to unfurl and the many varieties of delicately coloured fruit tree blossom take it in turns to bloom – from plum and damson to cherry and apple – before the finale of the white hawthorn coming into flower in May.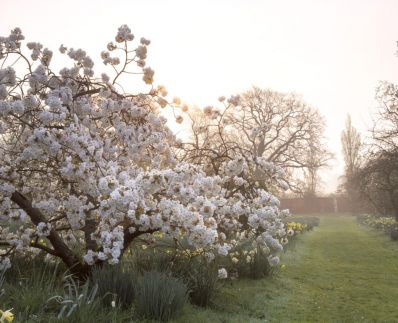 Apple blossom at Sissinghurst in Kent. Credit: NT Images & David Sellman.
Commenting on the sort of displays that the UK is likely to see this spring, Mr Toomer continued: "The lingering cool temperatures will tend to hold back the blossom so that when it warms up, we're likely to get an explosion.
"The warm weather we experienced a couple of weeks ago brought on quite a lot of blossom but it's still early. Very cold winter weather itself doesn't affect displays too much as the flower buds were formed at the end of the last growing season. The biggest danger for more tender plants like magnolia is that late cold snaps can damage the flowers as they emerge."
Simon Toomer concluded: "Lockdown will make local enjoyment of blossom even more powerful this spring, because blossom is nature's reminder that life and renewal are returning, and that there is fresh hope for people's lives as we emerge from the worst impacts of the pandemic."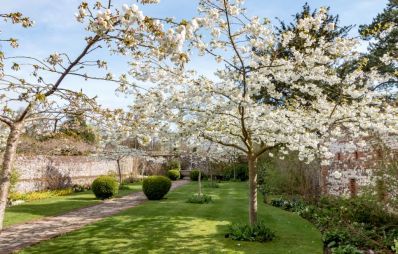 Cherry blossom at Grey's Court in Oxfordshire. Credit: Hugh Mothersole.
Janet Redler. Chief Executive of Janet Redler Travel & Tourism, added: "After all the weeks we've spent in lockdown, we will enjoy the blossom more than ever this spring. The UK is known the world over for its fabulous gardens and green spaces, so for those who are not yet able to visit our wonderful country, this is a great way to enjoy the best of the spring blooms."
For further information about BlossomWatch, visit www.nationaltrust.org.uk/blossom-watch, and you can see the latest spring blossom on social media using the hashtag #BlossomWatch.
If you or your group would like to enjoy a tailor-made garden tour of the United Kingdom or Ireland, taking in the best of the spring blossom, please do contact our friendly team today.