Caerphilly Castle, the largest castle in Wales, will benefit from a £5 million investment in development works by Cadw, the Welsh Government's historic environment service.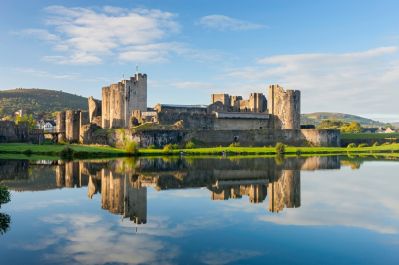 Caerphilly Castle © Hawlfraint y Goron / © Crown copyright (2021) Cymru Wales
The proposed investment is designed to boost the site as a world-class heritage attraction by 2023, as part of a wider £9.5m investment into Wales' historic sites. The funding will see the 13th century castle benefit from an extensive programme of conservation, site access improvements, and a complete overhaul of site interpretation.
The works will include a dramatic makeover of Caerphilly's medieval Great Hall - a space which has played host to events that shaped history. Originally built in the late 13th century, the Great Hall - the largest of its kind in the UK - will be redecorated to invoke the splendour of its medieval heyday.
At the heart of the project is a plan to install new interpretation throughout the castle, to help visitors explore and understand the complex story of Wales' largest castle, and the men and women who built and lived within it. Interpretation will span tales from Caerphilly Castle's medieval origins to its restoration in the 20th century.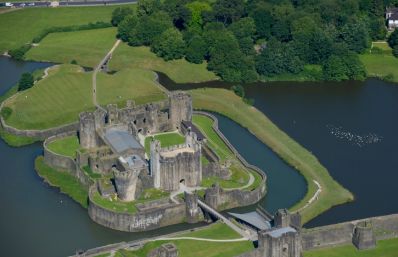 Caerphilly Castle from the air © VisitBritain / Jason Hawkes
Caerphilly Castle was built in the 13th century by English Lord Gilbert de Clare to control the historic Welsh county of Glamorgan, and to defend against attacks from native Welsh princes. Massive walls, towers and gatehouses were combined with sprawling water defences to cover a total of 30 acres.
By the 14th century, the castle had been transformed into a palatial home. The Great Hall was redesigned, and a hunting park and lake were added.
The castle's most recognisable feature today is its leaning tower, which leans more than the world-famous Leaning Tower of Pisa in Italy, and is blamed on English Civil War damage, although subsidence is the most likely culprit.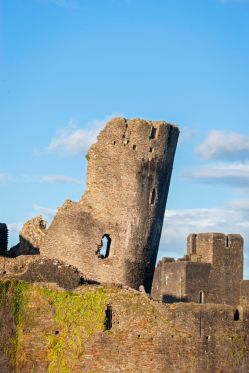 Caerphilly Castle's leaning tower © Hawlfraint y Goron / © Crown copyright (2021) Cymru Wales
Cadw is also working to enhance the castle's natural surroundings. Earlier this year, castle grounds were seeded with wildflowers, and boxes for bats and birds to roost in were installed to encourage wildlife to thrive on the site. On the moat, floating rafts for kingfisher nesting have also been installed.
Dawn Bowden MS, Deputy Minister for Arts and Sport in the Welsh Government, said: "Here in Wales, our proud national heritage plays a hugely significant role in our cultural offer for local communities - and it's one of the foundation stones of our tourism economy.
"As we pull together as a country to recover from the impact of the pandemic, it's vital that we continue to invest in sites like Caerphilly Castle. I'm confident that Cadw's project will not only help to amplify this majestic monument's position as a top-class attraction, but will also help to boost tourism and cement Wales' ongoing recovery from the pandemic."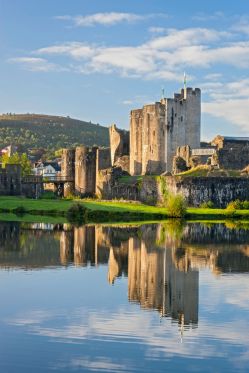 Caerphilly Castle © Hawlfraint y Goron / © Crown copyright (2021) Cymru Wales
Dr Kate Roberts, Chief Inspector of Ancient Monuments at Cadw, said: "Caerphilly Castle is one of the great castles of medieval Europe. Our project will both conserve the castle and help to bring its fascinating story to life."
Janet Redler, Chief Executive of Janet Redler Travel & Tourism, added: "This major programme of works is sure to enhance the visitor experience at Caerphilly Castle and, when the work is done, we're looking forward to returning with our tour groups, who will, I am sure, be delighted to benefit from the improvements."
If you or your group would like to enjoy a tailor-made heritage tour of Wales, or indeed the United Kingdom, including visits to some of the country's most majestic and historic castles, please do contact our friendly team today.