The Lovespoon Workshop in Pembrokeshire is sending a message of hope and love from Wales to the entire world, by running a competition while everyone is at home during lockdown for people to design their own lovespoon.
Welsh lovespoons are carved wooden spoons that were traditionally presented as romantic gifts. Decorated with symbols of love, the spoon reflected the skill of the carver and, while still given as gifts of love, today they are also recognised as an acknowledgment of friendship, and are used to record various special occasions, including engagements, anniversaries, weddings and births.
The Lovespoon Workshop is a family business in Pembrokeshire, south west Wales, that has been creating unique lovespoons for over forty years, and the competition aims to help shine a light in these dark times, by encouraging the many millions of people stuck at home in lockdown to design their very own lovespoon.
The YouTube video, shown above, explains how the competition works and demonstrates how a simple lovespoon is designed and made.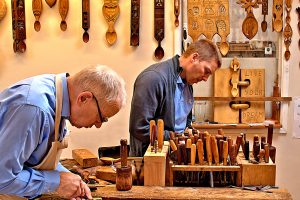 The Lovespoon Workshop
According to Dai 'Lovespoons' Thomas, the most important part of designing a lovespoon is the story it tells, so the competition is all about creating a personalised design idea and sending it in via one of The Lovespoon Workshop's digital channels (email or social media).
The winner of the competition will be chosen at random and they will have their spoon made by The Lovespoon Workshop. The lovespoon can then be sent to the winner, to someone else as a gift, or to a deserving group or organisation.
Janet Redler, Chief Executive of Janet Redler Travel & Tourism, said: "Lovespoons are a part of Welsh tradition dating back to the 17th century and provide a thoughtful gift not only for loved ones, but for anyone you would like to show your thanks and affection for. In these difficult times, this wonderful video demonstrates how these intricately carved mementoes are made and gives you the chance to create your own design.
"While lovespoons can of course be purchased online, for those who choose to visit Wales when things get back to normal, they provide the perfect gift that will help to remind you – and those you love – of what is sure to be an unforgettable vacation."
To watch the video and to find out more about how to create a lovespoon design, click on the video above or visit YouTube. For more information about The Lovespoon Workshop, click here.