For most businesses, the coronavirus COVID-19 pandemic has caused serious problems, but for those of us in the travel industry, the impact has been devastating. However, at Janet Redler Travel & Tourism, we are doing our best to 'keep calm and carry on'.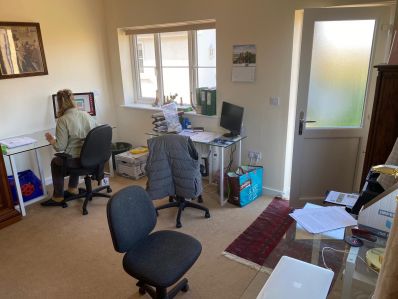 Janet Redler Travel & Tourism's temporary home office
With most countries imposing travel restrictions and advising people to stay at home, our inbound tourism business has inevitably ground to a halt. This has meant having to take some difficult decisions, but decisions which we hope will ensure we can survive the crisis and get back to normal as soon as the situation allows.
Although we have kept part of our office in Shrewsbury, as we are all being encouraged not to go out any more than is necessary, we have now adopted remote working arrangements. The Partners Janet and Nick have converted a room in their home into a temporary office, and our accounts team continue to work from home. In this way we are able to keep our business running, not only dealing with the many postponed, cancelled and rescheduled tours, but also with planning for the future.
As a result of the decline in workload, we were worried that we would have to cut back on our staff. However, thanks to the UK Government's job retention scheme, which will cover 80% of the salary of those employees not currently working, we have been able to keep everyone on our payroll by granting them leave of absence. We are hoping that this scheme, which is currently due to last until the end of May, will go on long enough for us to start paying people as normal again, once the crisis eases.
Chief Executive Janet Redler said: "These are difficult times for all of us, and our hearts go out to those affected by coronavirus COVID-19. At Janet Redler Travel & Tourism, we are doing our best to take the necessary steps to help our business get through the crisis and to be ready to start delivering our first class tailor-made tours once again, as soon as things get back to normal. In fact, a number of our clients are already planning for next year.
"We are pleased to say that all of our team are keeping well at the moment and we hope that our clients, friends and everyone who knows us, are also managing to stay safe. These are unprecedented times and everyone is being affected in some way, but by following our countries' health and safety guidelines and keeping isolated as much as possible, hopefully things will get back to normal soon."
Anyone contacting us by email or phone is unlikely to notice any change in the service we provide, and we always endeavour to deal with enquiries quickly and efficiently. We will continue to update our website with news and tour ideas and we will post regular updates on social media.
If you would like more information about the travel services we provide, or to discuss your plans for a tailor-made tour of the UK & Ireland, please do contact us.