Janet Redler Travel & Tourism organised a 15 day tour of Ireland (and some of Wales and England too) for a couple from California, who said they had an unforgettable time!
Ireland in winter is quite an experience, for although the climate is milder than much of Europe at this time of year and less prone to snow and ice, it is of course famous for its rain, and the wind often whips up the sea into huge waves at this time of year. However, this creates a spectacular beauty that is exhilarating to witness and impossible to forget.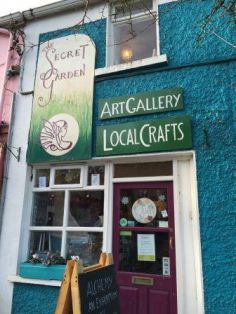 Janet Redler, Chief Executive of Janet Redler Travel & Tourism, said: "For our visitors from California, we wanted to put together a tour which took in the best of Irish heritage, history, landscape and gastronomy. Arriving and departing as they did from Heathrow Airport, we also arranged for our visitors to take in some of the highlights of North West England and Wales as they travelled to and from the Irish Republic."
Before catching the short flight to Ireland from Liverpool John Lennon Airport, the tour took in the foodie haven of Ludlow in Shropshire, the haunting castles and magnificent scenery of the Welsh Marches and North Wales and the UNESCO World Heritage Site of Liverpool – a city steeped in maritime history and celebrated as the home of the Beatles.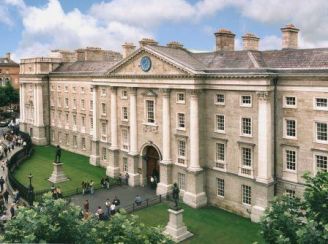 Trinity College, Dublin
The first three nights in Ireland were spent in Dublin, which has so much to see and do and so many literary associations, from W. B. Yeats and Oscar Wilde to James Joyce and Samuel Beckett. The architecture, particularly the Georgian facades, is world famous and Trinity College is home to the literary treasure that is the Book of Kells. Dublin is also the place for having a good time, and the visitors enjoyed the Guinness Museum and sampling the "Black Stuff".
"Leaving Dublin by car, we spent a memorable night at the wonderful Wineport Lodge in Athlone and were all bewitched as we watched the sun rise over beautiful Lough Ree while having breakfast," said Janet Redler.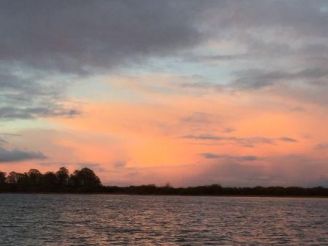 Sunrise over Lough Ree
The tour took in the romantic Kylemore Abbey on the way to Galway, the cultural heart of Ireland, with its picturesque and historic city centre. This was followed by a trip to the breathtaking Cliffs of Moher, on the Wild Atlantic Way, one of Ireland's most visited natural attractions, rising 640 feet from the sea.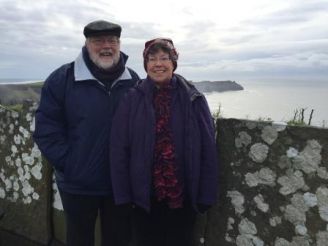 At the Cliffs of Moher
"On a mild and windy day, it was mesmerising to watch the waves crashing against the shore and the clouds scudding across the Aran Islands," added Janet.
The Ireland part of the tour was rounded off by a visit to the Rock of Cashel, a towering complex of 12th and 13th Century buildings, and then the chance for some shopping at the world famous Nicholas Mosse Irish Country Shop and Pottery, near Kilkenny, on the way to Rosslare to catch the ferry back to Wales.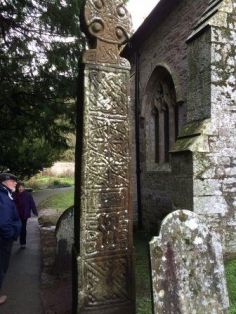 Celtic Cross, Navern Church
After arriving in Fishguard, the visitors spent time at the Pentre Ifan Burial Chamber, with its huge capstone, and St Brynach Church in Nevern, with its ancient Celtic cross, before heading to St David's, Britain's smallest city. The famous cathedral there has been a place of worship and pilgrimage for over 1,000 years and choral evensong was a magical experience.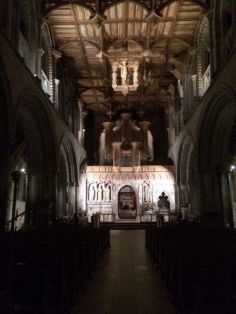 St David's Cathedral
On the last full day of the tour, the visitors sampled the Pembrokeshire Coastal Path and stopped off at Tenby, a charming seaside resort at any time of year. The final night was spent at Llangoed Hall, one of Wales's finest country house hotels located in the stunning Wye Valley.
Commenting on their tour, Mr and Mrs Bollwinkel said: "One thing we learned on our winter vacation in Wales and Ireland: use Janet Redler Travel & Tourism!
"Changing weather and accommodations closed for the season were no problem for our intrepid driver/guide Jan. She knew the territory so well and never missed a beat! She had an uncanny sense for when and where to get the best Irish coffee on a cold, blustery day.
"From auto to airplane to ferry to bus we gained a beautiful picture of both rural and urban landscapes in Ireland and Wales. From home to castle to hotel to bed and breakfast with gourmet food, a windmill stay, and even country estate living, we tasted and toured and learned and laughed. Thank you for a beautiful unforgettable experience!"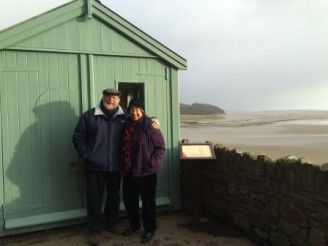 At Dylan Thomas's Writing Shed in Laugharne, South Wales
Janet Redler summed things up: "The weather was fabulous for the time of year and we experienced the typical Irish welcome, with so many people taking the time to stop and chat to our visitors. The journey involved a good deal of spectacular coastal driving, which was a real pleasure, especially as there was less traffic on the road compared to the summer months.
"A winter tour has many advantages, and there is nothing better than pulling into a roadside hostelry for Irish coffee to warm you through, or relaxing in front of a roaring fire in the evening with the finest Irish whiskey!"
To find out how we can help create the perfect tailor made tour of Ireland or the UK for you or your group – whether there are two or two hundred of you – please do call or email us.
Click here to read more about the pleasures of taking a vacation in Ireland and Britain in winter.