This year's Llangollen International Music Eisteddfod, which takes place from 1st to 7th July, boasts a spectacular line-up of international stars.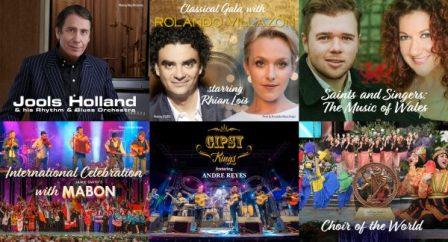 Returning festival favourite and Vice President of the Eisteddfod, Jools Holland, will entertain the Royal Pavilion audience with his legendary Rhythm and Blues Orchestra on Monday 1st July. The jazz, blues and swing showstopper will launch the 2019 concert series with an unforgettable toe-tapping extravaganza of live music.
The week-long festival line-up features some of the world's most internationally renowned musicians, including French-Mexican star tenor, Rolando Villazón, salsa, pop and flamenco outfit, Gipsy Kings, and award-winning Celtic music band, Jamie Smith's MABON.
Every summer since 1947, Llangollen has staged one of the world's most inspirational cultural festivals. Each year around 4,000 performers and as many as 50,000 visitors converge on this beautiful small Welsh town and its International Pavilion to sing and dance in a unique combination of competition, performance, and international peace and friendship. 
Interim Music Director of the festival, Edward-Rhys Harry, said: "It's been an exhilarating first few months in my role as Music Director at Llangollen International Musical Eisteddfod and a real joy to curate my very first concert series, which we feel reflects the musical excellence and diversity of this fantastic event.
"We are proud that this year's festival line-up spans genres and generations, crossing the boundaries of age, culture and creed. There really is something for everyone."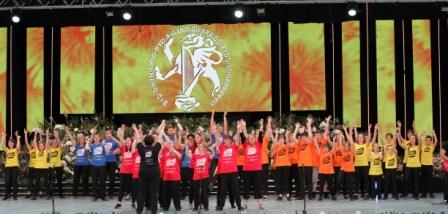 The evening concert line-up includes a classical gala with Rolando Villazón; 'Saints and Singers: The Music of Wales', which promises to be a suitably dramatic celebration of traditional Welsh music; and 'Choir of the World', a live, televised concert which will see the finest choirs from across the globe battling for the highly sought after Choir of the World 2019 title.
The festival will draw to a close on Sunday 7th July at the Llanfest 2019 summer festival, which will feature a range of contemporary live bands on outside stages and a finale in the main Pavilion.
"This year's International Eisteddfod promises to be a spectacular showcase of Welsh - and global - music talent," said Janet Redler, Chief Executive of Janet Redler Travel & Tourism. "With such a diversity of performances, the Eisteddfod is well worth a visit for music lovers and all those interested in the culture of Wales."
Yehudi Menuhin, Dame Kiri Te Kanawa, Montserrat Caballé, Dame Margot Fonteyn, Katherine Jenkins and José Carreras are just some of the world famous musical stars who have appeared at the International Eisteddfod over the years. Placido Domingo cites the 1968 International Eisteddfod as his first professional engagement in the United Kingdom!
In addition, throughout the week, a diverse range of cultural activities takes place on the festival site and throughout the town, from arts and crafts to creative writing workshops, and circus skills to storytelling.
If you or your group would like to enjoy a tailor-made tour of Wales, including the Llangollen International Eisteddfod or the annual National Eisteddfod of Wales, please do contact our friendly team today.