Burns Night this year is sadly not going to be the time to explore Scotland in person, but Scotland fans can still mark the big night by enjoying a host of virtual Burns celebrations and suppers.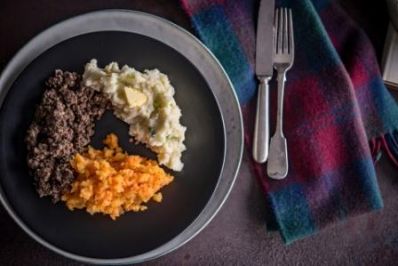 A traditional Burns Night supper of haggis, neeps and tatties © VisitScotland

25 January is known worldwide as Burns Night, the birthday of Robert Burns, Scotland's national poet, and is traditionally celebrated with a meal of haggis, turnip ('neeps') and potatoes ('tatties'), and a wee dram of whisky. Normally events take place all over Scotland, but not this year. Instead, many are taking place online, which means you can join in from the comfort of your own home.
Big Burns Supper
Monday 25 January 2021, 7pm 
Scotland's largest contemporary Burns celebration, Big Burns Supper goes digital for the first time in 2021. Marking the festival's 10th anniversary, Big Burns Supper dishes up a very special broadcast connecting Scotland to the world with contributions from local, national and international artists to help celebrate Burns Night in a way that helps give everyone a much-needed lift and a laugh.   
The event is free. Click here for more information. 
Burns Big Night In (with National Trust for Scotland) 
Saturday, 23 January 2021, 7.00pm – 8.30pm
 
This special virtual event comes from the cottage in Alloway, South Ayrshire, where Burns was born in 1759, with music from folk band Talisk, a cocktail masterclass courtesy of The Glenlivet, exclusive expert insights into the life of Robert Burns, plus some exciting names from the world of comedy and poetry who'll present a lively and engaging take on the traditional Burns Supper.
 
Ticket prices from £18 per person. Click here for more information.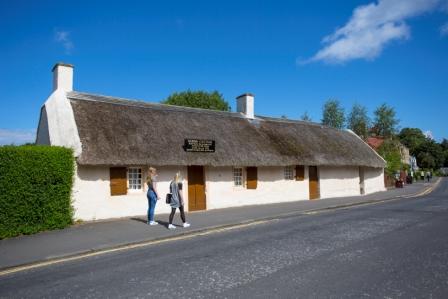 Robert Burns birthplace © VisitScotland / Kenny Lam
Macsween Burns Supper
Monday 25 January 2021, 7pm 
Edinburgh-based haggis brand Macsween is aiming to bring (possibly) the largest virtual Burns Supper to homes across the globe. Teaming up with Scottish comedy actor Karen Dunbar, alongside Dr. Rachel Barrie, master blender for Benriach distillery and described as 'The First Lady of Scotch Whisky', the event will be aired on Macsween's Facebook page at 7pm. 
The event will be broadcast on www.facebook.com/MacsweenHaggis, and anyone can join in the fun for free. 
Burns&Beyond 
Saturday 23 – Monday 25 January 2021
Burns&Beyond with Johnnie Walker returns this January to celebrate the life and legacy of Robert Burns through traditional and contemporary art and culture from across Scotland and beyond. With a theme of Love, Hope and Kindness, Burns&Beyond 2021 presents a free online programme of live music and poetry from Lucky Middlemass's Tavern in Edinburgh. A series of online performances will help everyone celebrate their very own Burns Night 'at hame' and there will be an online celebration of the Burns Collection at the National Museum of Scotland.
For the full programme, go to: www.burnsandbeyond.com 
Burns Night Ceilidh
Monday 25 January, 8pm - 9:30pm, live on YouTube
Dust off those dancing shoes with a free live Ceilidh from the Nest Collective. Join in for a night bedecked in tartan and tam o'shanters, with whisky flowing and floorboards shaking, all in celebration of Burns. Host Sam Lee will guide viewers through the evening. Dance along at home to a live ceilidh band (with Covid-safe demonstration dancers), listen to contributions from special guest musicians, and enjoy the Burns ceremony itself.
The event is free and to register interest go to: https://thenestcollective.co.uk/events/burns-night-2021/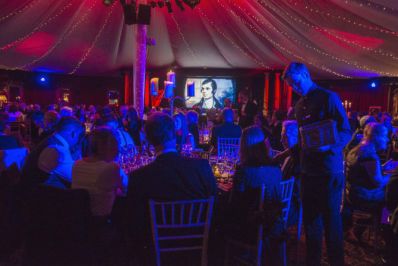 A Burns Night party in more normal times © VisitScotland
SBH Scotland – World's Biggest Burns 
Monday 25 January 2021, 7pm
SBH (Spina Bifida Hydrocephalus) Scotland has joined forces with Grant's Haggis and Endura to bring the world together for one special hour of big Burns and entertainment. The event will be broadcast on the organisation's YouTube and Facebook channels. The celebration of Burns includes performances from top Scottish comedians, as well as the world's leading Robert Burns performer, Christ Tait.
This is a free event. To register interest, please visit: www.sbhscotland.org.uk/content/burns/ 
Ever wanted to host a Burns supper of your own (albeit on a smaller scale for 2021) but not sure how? Check out some of the downloadable Burns Night resources from visitscotland.com/burns and scotland.org/burns. Suggestions include Scottish bagpiper Louise Marshall https://www.louisemarshallpiper.com/videos.html, and a Burns Night playlist, curated by VisitScotland, on Spotify: VisitScotland Presents: Burns Night Party - playlist by VisitScotland | Spotify.
And if you or your group would like to enjoy Burns Night in Scotland for real next year, please do contact our friendly team and we will put together the ideal tailor-made tour of Scotland for you.