St Patrick's Day is one of the biggest annual celebrations around the world and the event in Dublin is, not surprisingly, one of the best, attracting over 1 million people each year.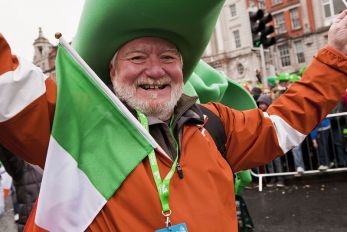 © Tourism Ireland
St Patrick is the patron saint of Ireland and his feast day has been celebrated by the church for over a thousand years. Tradition has it that he died on 17th March and was buried at Downpatrick in Northern Ireland.
St Patrick's Day has been a bank holiday in Ireland since 1903, when the first St Patrick's Day parade was held in Waterford. The St Patrick's Festival in Dublin has been going for more than 20 years and, although originally a one day event, is now a four day extravaganza, which this year takes place from 17th to 21st March.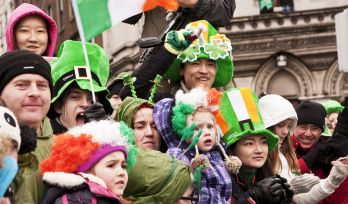 © Tourism Ireland
The highlight of the festival is of course the St Patrick's Day Parade through the centre of Dublin, which includes music, dance, floats and performances from groups across Ireland and around the world.
This year's festival also sees many other activities taking place, such as funfairs, street theatre, a beer and whiskey festival, concerts, Irish language and music celebrations, talks, walking tours and the Dublin Bay Prawn Festival. There is certainly something for everyone, and a visit to the festival is an unforgettable experience.
Of course St Patrick's Day is celebrated across the UK too. Birmingham, for example, holds the largest St Patrick's Day parade in Britain – globally third in size after the parades in Dublin and New York – and since 2002 London has had an annual St Patrick's Day parade which takes place on the Sunday closest to the 17th March. This year it is on 13th March and there is also a St Patrick's Day Festival at Trafalgar Square on the same day.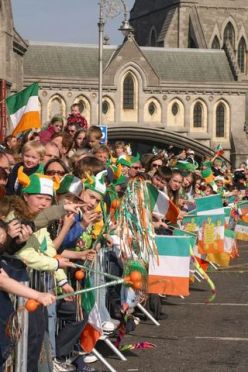 © Tourism Ireland
"We'd like to wish everyone a very happy St Patrick's Day 2016," said Janet Redler, Chief Executive of Janet Redler Travel & Tourism. "The annual festival in Dublin is really not to be missed for anyone with Irish roots or an interest in Irish heritage. However, many other towns and cities in Ireland and the UK hold St Patrick's Day events, so wherever you are on 17th March, you are sure to be within reach of a good old Irish celebration!"
If you would like us to organise a tailor made tour for you which takes in the St Patrick's Day celebrations in Dublin, or elsewhere in Ireland and the UK, please do get in touch!