A new digital tourism campaign aimed at boosting the number of American visitors to Glasgow has been launched in the world's most sought after advertising location.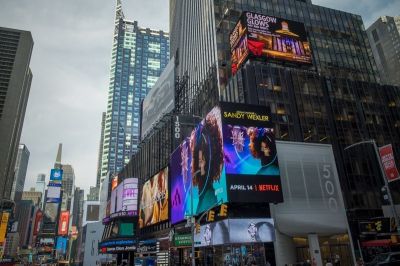 Photo credit: Helene Glanzberg
Glasgow Life has teamed up with Delta Air Lines to promote the carrier's new daily, non-stop route into the city from New York-JFK airport, which begins on 25th May, via a giant digital billboard in the heart of Times Square in New York, one of the world's busiest shopping and tourist centres.
Spanning nearly 30ft in height and 60ft in width, the massive HD screen – which is located at 1500 Broadway on the corner of West 43rd Street – is certain to make an impact, with nearly half a million people passing through Times Square every day.
Featuring an image of Glasgow's Gallery of Modern Art (GoMA) and the canopy of lights that illuminates Royal Exchange Square alongside the strapline 'Glasgow glows, day and night', the 15-second ad will be shown on a loop some 60 times every day between 6am and 2am until 5th May.
The campaign comes on the back of Glasgow's newly launched Tourism and Visitor Plan to 2023, which provides the blueprint for continuing to build the city's global profile as a successful tourist destination.
Growing overnight tourism visits from two to three million and positioning Glasgow as the 'gateway to Scotland' is at the heart of the plan, which aims to deliver an economic boost of £771m and contribute an additional 6,600 jobs in the city over the next seven years.
The US is Glasgow's leading international tourist market, with American visitors making 115,000 trips and spending more than £36m in the city every year.
Susan Deighan, Director of City Marketing and External Relations at Glasgow Life, said: "If we are to achieve our ambitious target of increasing overnight tourist numbers to three million by 2023 then it's vitally important that we continue to tell Glasgow's story in our key international markets.
"New York's iconic Times Square is regarded as the world's most prominent advertising location and a global tourist hotspot which attracts hundreds of thousands of visitors every day, so there's no better place to promote Glasgow."
Frank Jahangir, Delta's Senior Vice President of Sales and Affairs for Europe, the Middle East and Africa, said: "Delta is growing its footprint in the UK and with the introduction of our new Glasgow service will now be operating two daily flights from Scotland this summer. Meanwhile, our hub at New York-JFK offers more than 60 convenient connections enhancing the travel options for passengers flying between the United States and Scotland."
Janet Redler, Chief Executive of Janet Redler Travel & Tourism, added: "It is great news for Glasgow, and indeed Scotland as a whole, that Delta Air Lines is adding this daily service from New York. Not only is Glasgow a first class tourist and business destination in its own right, it is also the perfect starting point for a tour of Scotland or the UK.
"Janet Redler Travel & Tourism is delighted to be attending VisitScotland Expo 2017 in Glasgow on 26th and 27th April and we are looking forward to meeting up with many of our friends and colleagues in the tourism industry in Scotland."
If you or your group would like to enjoy a tailor made tour of Scotland or the UK, please do contact our friendly team today.