A campaign inviting people to Glasgow city centre has been launched, reminding visitors that the area is now ready to welcome them back to enjoy its many attractions, which they may have missed during lockdown.
Glasgow is Scotland's biggest city and the new #LoveGlasgow campaign supports those businesses and organisations that are now being allowed to open once again. It aims to remind people that it is safe to travel to and get around the city centre, while enjoying the shops, restaurants, bars and walking trails, as well as its outdoor and creative spaces like parks, gardens, museums and galleries.
The popularity of the city centre is underlined by its status as one of the most successful retail destinations in the UK outside of London's West End. Local businesses that have been closed during lockdown are ready to open and welcome visitors as the economy reopens and moves towards normality.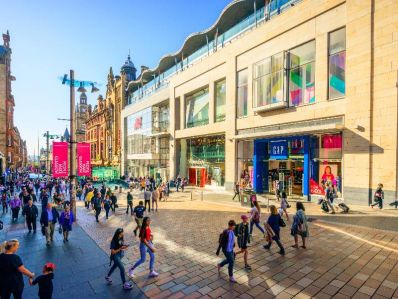 Buchanan Street North in Glasgow (image courtesy of Glasgow City Council)
The campaign is being financed by Glasgow City Council through the Scottish Government's City Centre Recovery Fund and uses a mix of media channels including digital, TV and radio. The campaign's promotional film can be seen above.
The return of tourism and events will be central to the renewal of the city as it recovers from Covid-19. The Glasgow Tourism and Visitor Plan contains immediate short-term actions by partners Glasgow Life, VisitScotland, Glasgow City Council and Scottish Enterprise, aimed at helping to profile local businesses and stimulating the visitor economy.
Glasgow Chamber of Commerce Chief Executive Stuart Patrick said, ""We know people in general are desperate to restart a normal lifestyle as much as possible and we must now maximise this potential footfall by satisfying a perception of the city centre as a safe place to visit, and to have the freedom to enjoy spending the high levels of savings we are told many have accumulated during lockdown."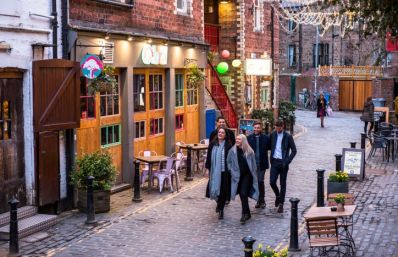 Ashton Lane in Glasgow © VisitBritain / Tommy Ga-Ken Wan
Janet Redler, Chief Executive of Janet Redler Travel & Tourism, addedd: "We've made dramatic strides back towards normality in the UK in recent weeks, following the fast and effective rollout of the coronavirus vaccination programme. It is great news that Glasgow city centre is opening up again and that the Council has put together this wonderful campaign to invite people back.
"While overseas travel to the UK is of course still restricted, this initiative demonstrates that things are slowly getting back to normal here and, once overseas visitors can travel freely again, there will be a warm welcome waiting."
If you or your group would like to enjoy a tailor-made tour of Scotland, including a visit to the vibrant city of Glasgow, please do contact our friendly team today to start planning your itinerary.