Our Chief Executive Janet Redler was delighted to attend this year's Flavours of Ireland event, to meet tourism companies from across the island of Ireland and to hear from Northern Ireland's Tourism Minister, Gordon Lyons.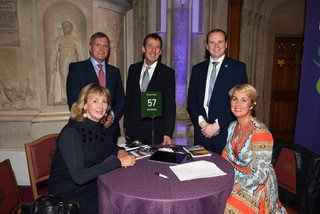 The photo shows (from left to right) Janet Redler; Christopher Brooke, Vice-Chairman of Tourism Ireland; Shane Clarke, Tourism Ireland; Tourism Minister Gordon Lyons; and Karen Henderson, Visit Derry, at Flavours of Ireland 2021.
This year's event was of particular importance, as overseas tourism restarts and tour operators prepare for business to resume in 2022 and 2023. Now in its 19th year, Flavours of Ireland – which took place virtually in 2020 – was an in-person event once again this year. This annual workshop provides tourism companies across the island of Ireland with an opportunity to highlight and sell their product to important decision-makers. 
Northern Ireland Tourism Minister, Gordon Lyons MLA, opened the event and took the opportunity to promote Northern Ireland. His schedule included a meeting with senior representatives of British tour operators as well as with global inbound tour operators. As travel from overseas restarts, this was a useful opportunity for the Minister to hear at first-hand from these important travel professionals. 
Held in the beautiful Guildhall in the City of London, Flavours of Ireland, which is organised by Tourism Ireland, was attended by around 100 top global inbound tour operators who deliver business from all over the world, including the US, Mainland Europe, Asia, Australasia and Africa.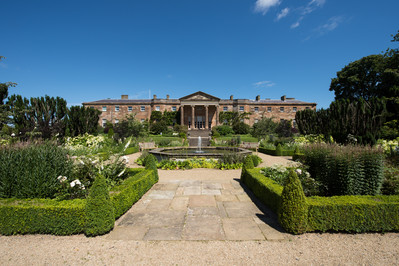 Hillsborough Castle participated in Flavours of Ireland 2021 (photo copyright Tourism Northern Ireland)
Gordon Lyons said: "Tourism and hospitality businesses have been amongst those hardest hit by the pandemic. I am pleased to be able to join Tourism Ireland here in London to help support them in promoting Northern Ireland to both international and GB visitors. 
"I welcomed the opportunity to meet up with the tour operators and share with them some of the many must see destinations and attractions Northern Ireland has to offer. Tour operators are vital to the recovery of our tourism industry; they have previously brought an estimated £150m into the local economy, meaning they are an important source of income for accommodation providers, hospitality businesses and tourist attractions." 
Northern Ireland tourism companies participating in Flavours of Ireland 2021 included Belleek Pottery Visitor Centre, Fermanagh Lakelands Tourism, Game of Thrones Studio Tour, Hillsborough Castle, Saint Patrick Centre, Titanic Belfast and Visit Causeway Coast and Glens.
Titanic Belfast was represented at Flavours of Ireland 2021 (photo copyright Tourism Northern Ireland)
Shane Clarke, Tourism Ireland's Director of Corporate Services, Policy & Northern Ireland, said: "We are delighted that Minister Lyons joined Tourism Ireland in London for the first time this week. He had the opportunity to hear about the importance of the GB market at first-hand from our travel trade partners. He also attended our annual 'Flavours of Ireland' event, where he met with leading global inbound tour operators.
"Before COVID-19, these tour operators were responsible for delivering millions of bed-nights to the island of Ireland. He assured them that we look forward to working closely with them in the months and years ahead – to rebuild tourism to Northern Ireland, for the long-term sustainable future of our industry."
Janet Redler, Chief Executive of Janet Redler Travel & Tourism, added: "It was fabulous to be back at Flavours of Ireland in person again, as this is a vital event in the calendar for inbound tour operators like Janet Redler Travel & Tourism. It was extremely valuable to meet with so many tourism businesses and to discuss our plans for 2022, after such a difficult 18 months, and we look forward to returning to Ireland – and Northern Ireland – with our tours next year."
If you or your group would like to enjoy a tailor-made tour of Ireland or Northern Ireland in 2022 or beyond, please do contact our friendly team and we will put together the perfect itinerary for you!