The world-famous Roman Baths in the historic English city of Bath will stay open until 10pm every evening this summer, offering visitors a chance to enjoy the special atmosphere by torchlight.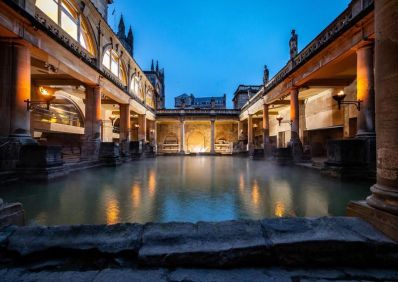 The Roman Baths by torchlight
The Roman Baths, at the heart of the City of Bath UNESCO World Heritage Site, consists of the remarkably preserved remains of one of the greatest spas of the ancient world. The city's unique thermal springs rise in the site and the Baths still flow with natural hot water. With over a million visitors in a typical year, the Roman Baths is one of the most visited heritage attractions in the United Kingdom.
This summer, the Baths will open late every evening, offering visitors a chance to enjoy the extraordinary atmosphere around the torchlit Great Bath. There will be a pop-up bar beside the Great Bath selling champagne, prosecco, soft drinks and ice cream. The Roman Baths museum will stay open late so that visitors can explore the fascinating displays about life in Roman Bath, long after the usual closing time.
Councillor Dine Romero, Cabinet Member for Children and Young People, Communities and Culture, at Bath and North East Somerset Council, said: "There is a magical atmosphere around the Great Bath as the sun begins to set and the torches are lit. We're delighted to be able to open late and invite visitors to enjoy this special experience."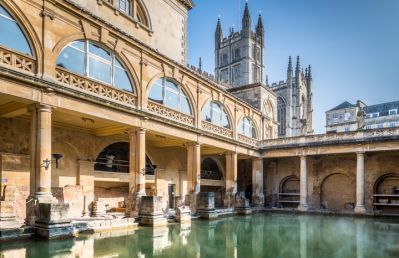 The Roman Baths by day © Bath and North East Somerset Council
Visitors can also combine a visit to the Roman Baths with dinner in the magnificent Pump Room, where diners can enjoy a chilled glass of champagne upon arrival, followed by their choice of seasonal menu, accompanied by live music from the resident pianist.
Now a restaurant, the Pump Room, with its Corinthian columns, glittering chandelier and spa fountain, was once at the heart of the social scene in Georgian Bath, as high society flocked to the city to 'take the waters', which they believed would relieve all their illnesses and discomforts. The novelist Jane Austen was familiar with the Pump Room, and used it as a setting in her novels Northanger Abbey and Persuasion. It was the place where "every creature in Bath was to be seen in the room at different periods of the fashionable hours".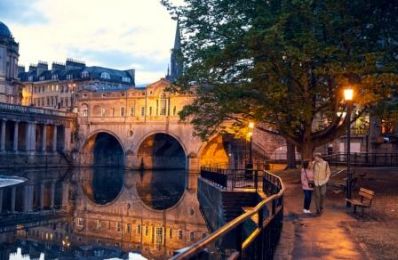 The city of Bath in the evening light © Visit Britain / Simon Winnall
Janet Redler, Chief Executive of Jane Redler Travel & Tourism, added: "The Roman Baths, in the wonderful city of Bath in south west England, is one of the most important Roman sites anywhere in the world. This incredibly preserved Roman bathing complex is atmospheric at any time of day, but to experience it in the evening by torchlight is truly magical."
If you or your group would like to enjoy a tailor-made tour of Roman Britain, visiting the Roman Baths and many of the other incredible Roman sites in Britain, please do contact our friendly team today.