The Book of Kells, a splendidly illuminated 9th century manuscript, on display at Trinity College Dublin, is one of the most famous manuscripts in the world and one of Ireland's leading tourist attractions. However, there are many other historically significant documents held in collections across the UK and Ireland, which shed light on the fascinating history of these countries.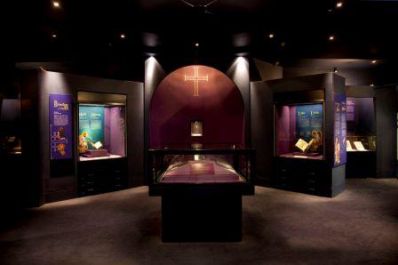 The Book of Kells at Trinity College, Dublin © Tourism Ireland
Explore the National Library of Wales in Aberystwyth, Wales's biggest library with over 6.5 million books and the largest collection of archives, maps and photographs in Wales. See the first Welsh bible at Tŷ Mawr Wybrnant, the birthplace of Bishop William Morgan on the edge of Snowdonia National Park, and visit Gladstone's Library in North East Wales, Britain's finest residential library and its only Prime Ministerial library, founded by the Victorian statesman William Gladstone.
Close to the Welsh border on the river Wye, Hereford Cathedral is one of England's finest cathedrals and home to the world's largest surviving map from the Middle Ages – the Mappa Mundi. The John Rylands Library in Manchester is housed in a breathtaking Victorian neo-Gothic building and contains one of the world's richest and most unique collection of books and manuscripts, while the British Library in London holds over 150 million items spanning over 3000 years of written history.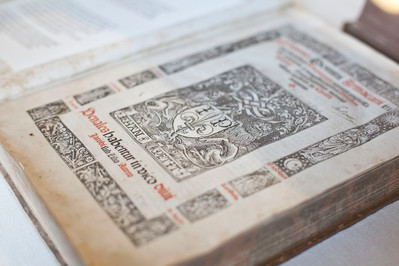 Manuscript at Armagh Robinson Library © Northern Ireland Tourist Board
Armagh Robinson Library is the oldest library in Ireland and home to a treasure trove of rarities and the Linen Hall Library in Belfast is one of Northern Ireland's most important and fascinating cultural institutions. 
One of the foremost private collections of artwork and artefacts in the UK is the Bute Collection at Mount Stuart, on the Isle of Bute in Scotland and the National Library of Scotland in Edinburgh holds the national collection of Scottish manuscripts. 
Click here to read more about the archives, collections and manuscripts that help to bring the history of the UK and Ireland alive.
If you or your group would like to enjoy a tailor-made tour of the UK and Ireland, taking in the archives and collections that meet your interests – from medieval manuscripts to 19th century politics, or from genealogy to literary giants – please do contact our friendly team today.