85 beaches and 10 marinas around Ireland have been awarded prestigious Blue Flags by An Taisce – The National Trust for Ireland. The Blue Flag is one of the world's most recognised eco-labels and the awards have huge significance for tourism.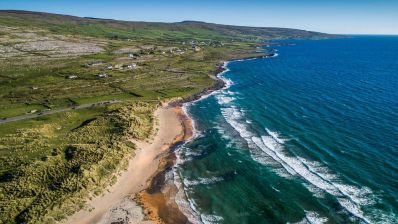 Blue Flag Fanore Beach © County Clare Council courtesy Air Swing Media
Fáilte Ireland research shows that outdoor water-based activities such as kayaking, surfling, paddle-boarding and open-water swimming are popular attractions for international and domestic visitors.
"It's a trend that is likely to continue to grow year on year, and not just during the summer months," according to Fiona Monaghan, Head of Product Development - Activities at Fáilte Ireland, Ireland's national tourism development authority.
Welcoming the awards announcement, Fiona Monaghan added: "Fáilte Ireland is really pleased to welcome this year's Blue Flag awards, and we congratulate the local authorities for achieving the excellent standards required by the Blue Flag criteria."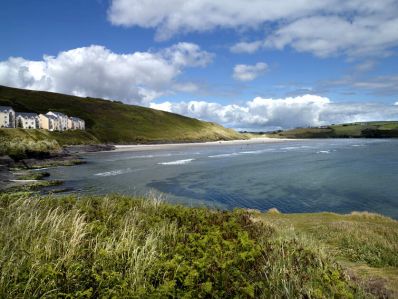 Blue Flag Inchydoney Beach, County Cork © Tourism Ireland
The Blue Flag is one of the world's most recognised eco-labels. Originating in France in 1985, the programme aims to raise environmental awareness and promote sound environmental management of beaches, marinas and eco-tourism boats around the world. 2022 is the 35th year that beaches and marinas in Ireland have been awarded Blue Flags and this year's total is the highest to date.
An Taisce – The National Trust for Ireland is responsible for the operation of the Blue Flag programme in Ireland. 48 countries take part in the programme and more than 5,000 sites and tourism boats will be awarded the Blue Flag this year.
"The quality of our bathing waters is vital for tourism," continues Fiona Monaghan. "Fáilte Ireland's work developing and promoting water based recreational activities is a strategic priority and we very much welcome the Environmental Protection Agency Bathing Water in Ireland report for 2021. The report shows that 78% of bathing sites have excellent water quality, while 97% meet the minimum standard.
"Covid19 has accelerated people's increased interest and appreciation for the outdoors, and we are fortunate that Ireland has some of the most natural and unspoilt environments in the world. Our stunning coastline, rivers and lakes are the bedrock upon which Irish tourism has been built and are now being enjoyed more and more by local communities and visitors."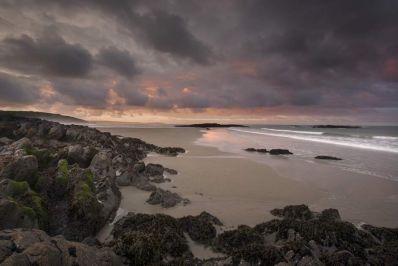 Blue Flag Owenahincha Beach, County Cork © Fáilte Ireland courtesy George Karbus
Fáilte Ireland partners with An Taisce annually to sponsor the Green Coast Awards and support hundreds of volunteer-led beach clean-ups each year around Ireland. These clean ups remove large quantities of marine litter from the Irish coastline and the banks of rivers, canals and lakes. The sponsorship also funds a number of environmental awareness and education initiatives nationwide.
Fáilte Ireland also made significant investment in developing water-based activity tourism around Ireland, with €19million allocated in April 2021 for 20 world-class Facilities Centres for Water Based Activities. This scheme was designed to ensure high quality, sustainable facilities are available to visitors as they enjoy activities along Ireland's coast.
If you or your group would like to enjoy an adventure tour in Ireland exploring the magnificent coastline and the pristine beaches, or a relaxing vacation by the sea, please do contact our friendly team today.