2016 sees the 400th anniversary of the death of William Shakespeare – England's greatest playwright – and a series of events are taking place around the country to commemorate 'The Bard'.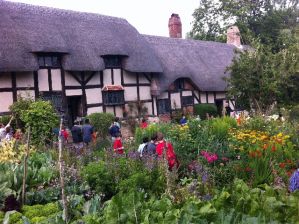 Anne Hathaway's Cottage in Stratford-upon-Avon,                                             where Shakespeare's wife lived as a child.
Shakespeare was born in Stratford upon Avon in 1554 and wrote over 38 plays and 154 sonnets before his death at the age of 52 in 1616. Although not revered during his lifetime, by the 18th Century his reputation as a literary genius was secure.
To mark the 400th anniversary of his death and to honour his legacy, there will be an exciting programme of activities centred on his home town of Stratford-upon-Avon in Warwickshire.
One of the most eagerly anticipated events is the reopening of Shakespeare's family home in Stratford-upon-Avon, New Place, which will be transformed and reimagined for a 21st century audience, telling the story of Shakespeare's mature years as a successful writer and citizen of his home town. It is due to open in April 2016.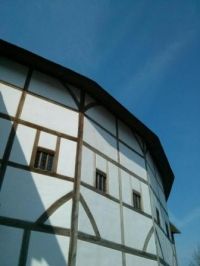 Shakespeare's Globe Theatre in London.
Although activities will be taking place throughout the year, the country's celebrations will reach a peak on 23 April, the date of Shakespeare's death, with a sumptuous anniversary gala concert at London's Royal Festival Hall, featuring a performance of music, interspersed with readings from the plays that inspired them.
Other highlights will include Shakespeare in the Royal Library at Windsor Castle, celebrating Shakespeare's longstanding association with Windsor and the royal court; the World Shakespeare Congress at venues in London and Stratford-upon-Avon which will examine the global cultural legacy of his works, and 'Shakespeare in Ten Acts', an exhibition at the British Library exploring the performances that have made Shakespeare the cultural icon that he is today. Throughout 2016 there will, of course, be numerous performances of his plays, as well as films, concerts, operas, talks and more, inspired by his work.
Janet Redler, Chief Executive of Janet Redler Travel and Tourism, said: "2016 will be an unforgettable year across England, and beyond, celebrating the life and works of William Shakespeare, one of the greatest writers the world has ever seen.
"We would urge visitors to England to take the time to fit in a little piece of Shakespeare this year, whether it is a visit to his birthplace in Stratford-upon-Avon, a performance at The Globe Theatre in London or participation in one of the many other special events taking place."
If you would like Janet Redler Travel and Tourism to put together a tailor made tour for you incorporating the best of Shakespeare, please do not hesitate to contact us.
To paraphrase The Bard himself in his play Antony and Cleopatra, "Age cannot wither him, nor custom stale his infinite variety…"