With Game of Thrones® fever on the rise once more, thanks to the arrival of the long-awaited sixth season, Tourism Ireland has launched its latest campaign to showcase Northern Ireland, the location for much of the filming.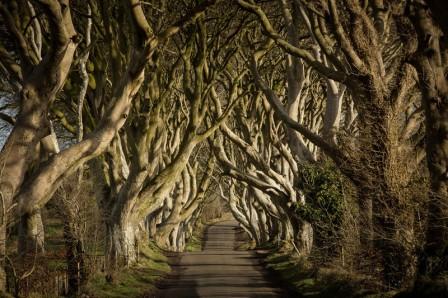 The Dark Hedges, a Game of Thrones filming location © Tourism Northern Ireland
The new campaign, created in partnership with HBO, celebrates Northern Ireland as Game of Thrones® Territory for the sixth year running. The campaign will also be rolled out by Tourism NI in Northern Ireland and the Republic of Ireland.
An exciting feature of the 2016 campaign is a series of 10 intricately carved doors, depicting moments inspired by this season. The doors will be unveiled each week as season six unfolds – referencing key scenes and events from the latest episode and incorporating some of the iconic symbols of the show.
The doors will be carved from trees blown down in winter storms at the Dark Hedges, a spectacular tunnel of beech trees in County Antrim, which serves as the backdrop for the Kingsroad, perhaps the most iconic Game of Thrones® location in Northern Ireland.
The wood from the fallen trees has been salvaged and will be carved into legacy pieces marking each episode, demonstrating the connection between the show and Northern Ireland. The doors will hang in pubs and other venues near filming locations across Northern Ireland, giving visitors a brand new Game of Thrones® Territory trail to follow.
Northern Ireland Enterprise, Trade and Investment Minister, Jonathan Bell, said: "Screen tourism continues to be a growth area and the filming of Game of Thrones® here in Northern Ireland continues to showcase our stunning scenery and countryside to the world."
John McGrillen, CEO of Tourism NI, said: "This highly creative and innovative campaign will raise the profile of Northern Ireland as a holiday destination and encourage people to explore our stunning landscapes. There are over 20 Game of Thrones filming locations in Northern Ireland that are accessible to everyone including Tollymore Forest Park in County Down, Pollnagollum Cave in County Fermanagh and Ballintoy Harbour in County Antrim."
Janet Redler, Chief Executive of Janet Redler Travel & Tourism, added: "We regularly organise tours to Ireland and, without doubt, the scenery and landscapes are some of the most spectacular in the British Isles. The popularity of Northern Ireland, in particular, for filming movies and TV series is helping to raise awareness of the beauty of the area and we hope will inspire many more people to visit."
The Tourism NI campaign runs until the end of June.
If you would like Janet Redler Travel & Tourism to put together a tailor made tour of the many filming locations in Northern Ireland for you or your group, please do contact us.