In celebration of its 400th anniversary in 2016, the Queen's House in Greenwich, London, which was designed by renowned English architect Inigo Jones, is set to reopen next year after a major renovation.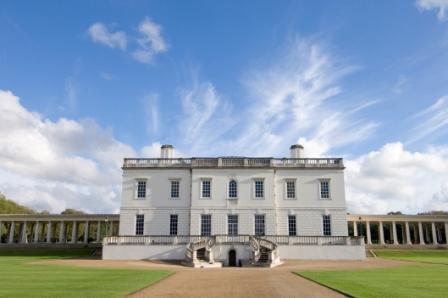 The Queen's House © National Maritime Museum, London
Famous as the first Classical building in England, the Queen's House is also known today for its world class fine art collection, which includes works by the likes of Gainsborough, Reynolds, Turner and Hogarth.
Commissioned by King James I in 1616 for his wife Anne of Denmark, the House will be restored to its royal splendour, helping to showcase its art collection, which will include, for the first time since 1650, Orazio Gentileschi's Joseph and Potiphar's Wife. This painting, which belongs to the Royal Collection, was one of a sequence commissioned for the Queen's House by King Charles I and Queen Henrietta Maria.
The restoration of the House, which forms part of Royal Museums Greenwich, will include the refurbishment of the King's Presence Chamber and the Tulip Stairs, as well as introducing new displays and colour schemes. The ceiling in the King's Presence Chamber, for example, will be restored, complementing the Queen's Presence Chamber which was restored in 2013.
These two rooms will be adorned with paintings illustrating the kings, queens, consorts and courtiers associated with the House and Greenwich during this period, including Charles I and Henrietta Maria by Daniel Mytens, also generously loaned from the Royal Collection by Her Majesty The Queen.
"This really is an exciting project," says Janet Redler, Chief Executive of Janet Redler Travel and Tourism. "The refurbishment provides the perfect opportunity to celebrate this historically important building on its 400th anniversary. We look forward to including the House on a number of our London tours when it re-opens next July, and in particular we look forward to experiencing the fabulous art collection in its newly restored surroundings."
Although commissioned by King James I for his wife, Anne of Denmark never lived to see the House completed, dying as she did in 1619. It was not until 1629, when James's son Charles I gave Greenwich to his wife Henrietta Maria, that work on the House resumed. The Queen's House was completed around 1636 and is considered remarkable for its break with the traditional, red-brick Tudor style of building. It was the first fully Classical building in England.
The Queen's House is due to reopen in July 2016. To find out more and to include the House in a tailor made tour of London, please do contact us. For further information about the Queen's House and Royal Museums Greenwich, please visit www.rmg.co.uk.