Plan a road trip in Scotland
Scotland is famous for its mountain landscapes, romantic lochs and coastal hideaways, but many of the most spectacular places to visit are in remote places, far from public transport routes. So, a road trip is the ideal way to enjoy Scotland and we can put together the perfect itinerary for you or your group.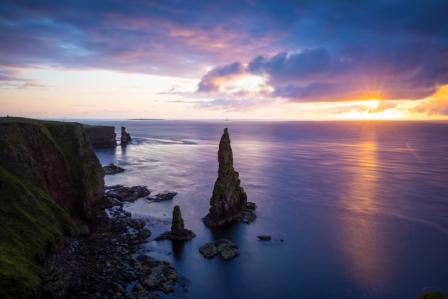 Duncansby Head is the most north easterly point of the British mainland © VisitScotland/Kenny Lam
Your road trip with us starts the minute you arrive at the airport or railway station in Scotland. We will arrange the most suitable vehicle to meet your needs, whether that is something compact and manoeuvrable for those narrow country lanes, or something roomier and more comfortable for the whole family plus luggage. If self-drive isn't your thing, we can just as easily organise a driver-guide who will chauffeur you throughout your tour, a minibus with driver for a small group or even a luxury coach.
We will work with you and your group before the tour begins, to put together a suitable itinerary which takes in the landmarks and experiences you most want to enjoy. There are many wonderful places to visit in Scotland – far too many to include on the average vacation – so, with our on-the-ground knowledge and experience, we can recommend the most interesting, most quirky or most popular things to do – things that no visitor should miss!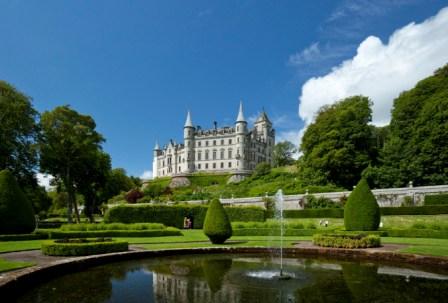 The fairy-tale splendour of Dunrobin Castle on the North Coast 500 route © VisitScotland/Paul Tomkins
One of the great pleasures of a road trip in Scotland is arriving at a cosy bed and breakfast, traditional inn or luxury hotel, at the end of a rewarding day's sightseeing, where a warm welcome is assured. The Highlands of Scotland, for example, are vast and over the centuries accommodation for travellers has sprung up on all the main routes and indeed off the beaten track too. The only proviso is that places get filled up quickly, especially in spring and summer, so it makes sense for us to book the best places for you before your tour begins.
Pre-arranging accommodation doesn't mean that travellers can't enjoy the freedom of the open road at the pace they choose, it just means they have a destination to aim for each day and the security of knowing they have a comfortable bed, a hearty meal and perhaps a 'wee dram' to look forward to!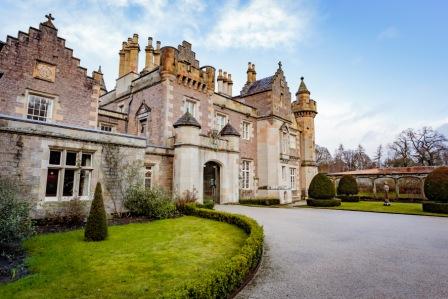 Abbotsford House was once the home of Sir Walter Scott © VisitScotland/PRImaging
There are some great tourist routes to follow in Scotland and here are three of our favourites.
The North Coast 500 is Scotland's answer to Route 66 and one of the most beautiful coastal touring routes in the world. Bringing together just over 500 miles of stunning coastal scenery, the route follows the main roads along the coastal edges of the North Highlands. With fairy-tale castles, glistening sandy beaches and spell-binding heritage, the North Coast 500 has captured the imaginations of thousands of people.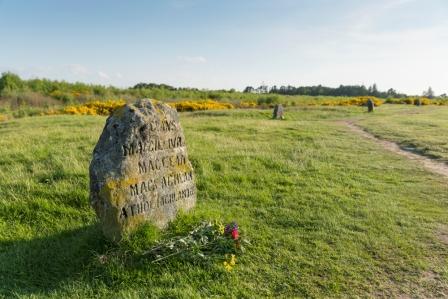 Culloden - site of the last battle on British soil © VisitScotland/Kenny Lam
The Highland Tourist Route is a real treat for lovers of Scottish history and takes in no less than four castles as well as Culloden Battlefield and many museums along the way. Nature lovers and active types will also be enthralled as the route travels through the mighty Cairngorms National Park – where you can see rare species or have a go at an exhilarating sport.
The only tourist route that begins outside Scotland, the Borders Historic Route, picks up near the historic English town of Carlisle, once a Roman settlement, before passing into the lush countryside of the Scottish Borders. Travellers can discover the home of famous 19th century novelist Sir Walter Scott en route to Scotland's majestic capital city of Edinburgh, with its remarkable castle, passing through many charming villages and breathtaking landscapes along the way.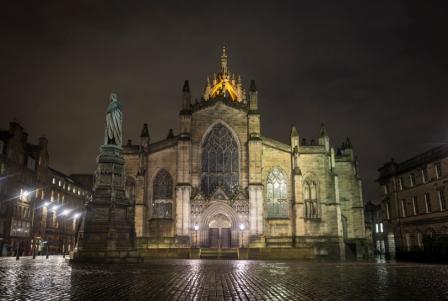 Experience the tranquility of Edinburgh's beautiful St Giles Cathedral © VisitScotland/Paul Tomkins
If you would like Janet Redler Travel & Tourism to create the perfect personalised road trip for you or your group, taking in many sights along the way and including comfortable accommodation and delicious meals, please do contact us. Our friendly team will design the perfect road trip of Scotland to meet your expectations.