Robin Richards from Janet Redler Travel & Tourism enjoyed a tour of the Scottish Borders in March, with thanks to the Midlothian & Borders Tourism Action Group. Here is Robin's blog about the tour.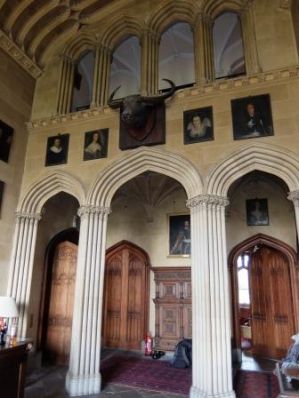 Duns Castle in the Scottish Borders
What will remain with me most of all is the incredible hospitality and stunning scenery that I encountered, but I was also left with an enormous sense of pride, due to my own Scottish ancestry, and a much better understanding of all that this region has to offer.
From Waverley Station in Edinburgh I set off with my fellow tour operators and our amazing guide Sandra. We stopped first at Galashiels for lunch at the Grapevine and I was immediately struck by the quality and ambience and was left in no doubt that this was going to be an extremely memorable trip. The food at the Grapevine was simply outstanding and this was a recurring theme throughout the tour.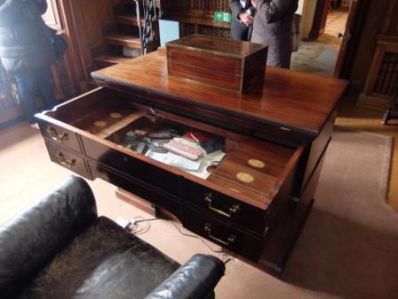 Sir Walter Scott's writing desk, Abbotsford
From Galashiels we were whisked off to Abbotsford – the breathtaking home of Sir Walter Scott – and this, as with many of the places we visited, really differentiates the Borders from the rest of Scotland and indeed the UK. I feel that this is its unique selling point. The Borders region has a fascinating and turbulent history and is often overlooked by tourists in favour of the more well-known Scottish attractions and sights.
Our next stop was Aikwood Tower. This magnificent 16th Century fortification has been beautifully renovated to accommodate groups or families wishing to stay in the heart of the region, with all the comforts of a modern home. We then had the delight of seeing Traquair, Scotland's oldest inhabited house, a stunning and historically significant place frequented by Mary, Queen of Scots. What was so special with each of the destinations we visited was not only how open and friendly the owners were, but that group events can be arranged for your very own unique Scottish experience.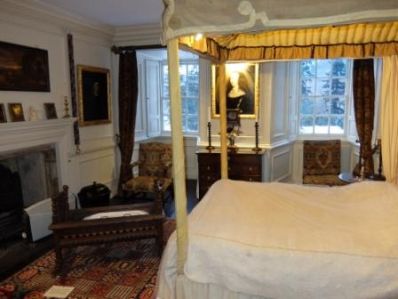 The room where Mary, Queen of Scots stayed at Traquair
This people of this region really do know how to entertain and to look after their guests in true Scottish fashion! None more so than the superb experience I had at Cringletie House Hotel. Here we were treated to immediate hospitality from the owner, Jeremy, with a warming hot chocolate and brandy, as well being greeted by a charming teddy bear (who could be adopted) in each of our rooms – a lovely touch after a busy day exploring the Borders.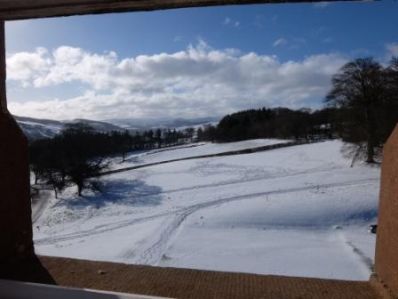 The view from Cringletie House
With so much on offer in the Scottish Borders, from mountain biking to historic tours, there truly is something for everyone. One thing that really hit home was just how unsung the whole region is. Our tour guide mentioned one of the border clans, the Armstrongs. We were asked to think of notable famous Armstrongs and the one that sprung to my mind was of course Neil. In fact, Neil Armstrong's ancestry can be traced back to this region.
This also meant something else to me: a pioneer spirit, like the first man on the moon. The next place we visited, Lochcarron of Scotland – the world's leading manufacturer of tartan – carries this spirit of the borders to all corners of the globe. Although almost all of the mills in the area have sadly now closed, Lochcarron lives on. After the closure of other mills in the area, the weavers seamlessly (no pun intended!) went into computer circuit board manufacture due to their incredible dexterity.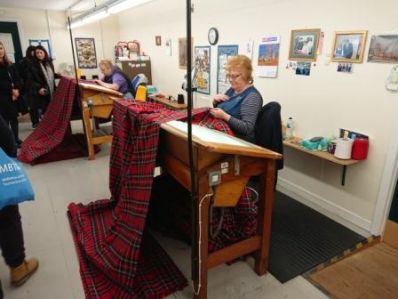 Quality checking the tartan at Lochcarron of Scotland
Lochcarron continues to provide jobs to local people with an immense skill set, and the company supplies international brands such as Christian Dior and Burberry in the world of fashion, as well as kilts and tartans for films. Again, the Borders pioneering spirit shows through and, in the words of the weavers in their infamous motto, "We dye to live & live to dye".
From being greeted by bagpipers at Thirlestane Castle, to having exclusive access to Floors Castle (famous as a location in the film Greystoke: The Legend of Tarzan) whilst undergoing its incredible refurbishment, this tour really opened my eyes to this marvellous part of the world. Our last night and dinner in Duns Castle was like spending a night in a fantasy realm!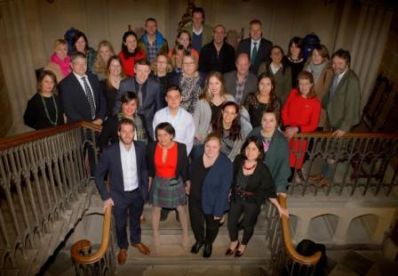 Gala Dinner at Duns Castle
Alas, there is simply too much to write about without this becoming my first and longest blog in history, so I wanted to finish by saying that in my opinion, the Scottish Borders region truly is the unsung jewel in Scotland's crown, and one of the most extraordinary places to visit if you're coming to the UK.
If you or your group would like to enjoy a tailor-made tour of the Scottish Borders, taking in the wonderful sights and warm hospitality experienced by Robin on his tour, please do contact our friendly team today.