Just one week on from the Westminster terrorist attack, Helen Moriarty from Janet Redler Travel & Tourism was joining a City Cruise vessel at Westminster Pier for a journey down the River Thames to Greenwich.
The Queen's House in Greenwich
Westminster was buzzing with people, some going about their business, school groups visiting the Houses of Parliament and foreign and British tourists taking in the sights, with many pausing to read the messages of sympathy left with flowers outside Parliament and attached to columns on Westminster Bridge.
Cruising the Thames is a wonderful way to take in the London scene - easily achieved either on one of the City Clipper boats or, as we were travelling, on one of the many City Cruise vessels.
From Westminster, heading down river, we passed The London Eye, St Paul's Cathedral and the Tower of London, ducking under Tower Bridge. With a glass or two of prosecco and convivial company, we were able to absorb the sights of The City, Tower Hamlets, Poplar and the growing towers of Canary Wharf, before docking at Greenwich adjacent to the famous ship Cutty Sark.
Of interest just before we docked was the Trinity Hospital - dwarfed by the Greenwich Power Station and built by the first Earl of Northampton. He built three 'hospitals' for the elderly - this one in Greenwich, one in Norfolk and, of significance to me, one in Clun, a small town in Shropshire less than 10 miles from my home.
From the river, on our approach to the Queen's House, we walked through the Royal Naval College and past the National Maritime Museum, pausing for a group photo on the steps.
The Queen's House was built by Inigo Jones on his return to England from studying in Italy under Andrea Palladio. Built between 1616 and 1638 for Queen Anne of Denmark, the wife of King James I, the house is beautifully and symmetrically proportioned and an outstanding example of English Palladian style. The great hall is a 40ft cube and the design of the floor matches the composition of squares and circles on the ceiling.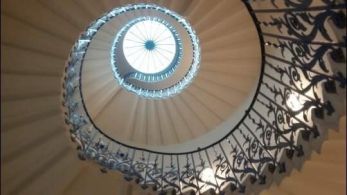 The original 'tulip' spiral staircase at the Queen's House
The geometrically proportioned 'tulip' spiral self-supporting staircase is an original feature of the house, with ornate iron work. The rooms are now galleries and house many masterpieces, with very interesting originals cataloguing the changes in Greenwich Park, the former Tudor Palace there and the Greenwich Observatory.
I will certainly be revisiting Greenwich to take another look at the Queen's House and to visit the Observatory and the Maritime Museum, as well as the recently opened Wren and Hawksmoor's Painted Hall at the Old Royal Naval College, where you can marvel at the largest ceiling paintings in Northern Europe. All in all, it promises to be another grand day out!