Bristol in England may not be one of the first choices for most travellers to the UK, but we would suggest it really should be.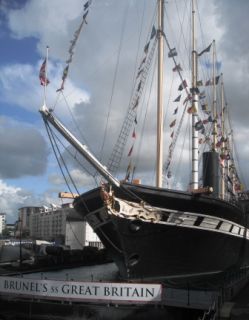 Bristol has played an important role in the history and development of America, with real meaning for people of different heritages. A city in the West of England, Bristol was for many years a major port connecting America with Africa and the West Indies through the infamous slave trade.
Happily today, Bristol is one of England's most friendly, hip and trendy cities, bursting with character and culture. Centred around a historic harbour, where art galleries and museums rub shoulders with traditional smugglers pubs and fashionable restaurants, Bristol has something for everyone.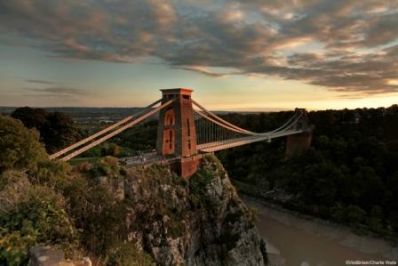 Clifton Suspension Bridge © VisitBritain/Charlie Waite
Chances are that if you are visiting the UK you will arrive by plane rather than by boat, and you are likely to fly into Heathrow in London and reach Bristol by road or rail.
Perhaps the best way to arrive is by first class rail to Bristol Temple Meads. Opened in 1840, this railway station was the terminus for the Great Western Railway which connects London and Bristol and was designed by the great engineer Isambard Kingdom Brunel. Bristol's connection to Brunel doesn't end in the vast expanse of the station, though.
Brunel is rightly revered as one of Victorian England's greatest engineers and visitors to Bristol can see two of his other outstanding achievements.
A short taxi ride – or pleasant stroll – from Temple Meads will bring you to the SS Great Britain. Now a museum, the SS Great Britain was once the world's largest passenger ship and was built to ply the Bristol to New York route. She first crossed the Atlantic in 1845 but, after a number of disasters, she ended up aground in the Falkland Islands, before being salvaged and brought back to her original dry dock in Bristol. Now, much of the interior is restored and you can get a wonderful feel for the 'luxury' that passengers would have enjoyed during their 14 day passage. Compared to today's cruise liners though, it is hard not to be struck by how small she feels on board!
When she was brought back to Bristol in 1970 aboard a large barge, she sailed for her last time under one of Brunel's other Bristol masterpieces.
The Clifton Suspension Bridge is a fine metal bridge hanging 249 feet above the River Avon, and is probably one of Bristol's most iconic landmarks. You can stroll across the bridge – if you do not suffer from vertigo! If you happen to visit Bristol on a foggy day, which is rare but they do happen, then your sightseeing from the bridge will be curtailed, but walking across the bridge in the fog, is an unforgettably eerie experience.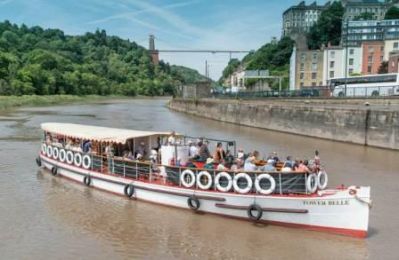 Bristol Packet Boat Trips
A boat trip is a great way of seeing Bristol's most famous landmarks from the water and Bristol Packet Boat Trips offer both harbour tours and river cruises with informative and entertaining commentaries. As well as full and half day trips, they run cream tea cruises and tours to places such as Bath. 
Brunel's contribution to links between Bristol and North America go back 170 years, but there are much older links too.
John Cabot – an Italian navigator – arrived in Bristol in the 15th Century and made a voyage across the Atlantic in 1497 aboard a ship called the Matthew. A replica of this ship was built in Bristol and is now a popular harbourside visitor attraction. If you think the SS Great Britain is small, then the Matthew really does make you wonder how on earth people managed in such cramped conditions on a long and dangerous crossing to 'the New World'.
For a flavour of 17th Century Bristol, don't miss the Llandoger Trow public house, the inspiration for Robert Louis Stevenson's Admiral Benbow in the children's classic Treasure Island, and the place where Daniel Defoe got the idea for Robinson Crusoe.
Luckily, if you are visiting Bristol from the USA or Canada these days – or indeed from anywhere else in the world – you can relax in the knowledge that, after a restful night ashore, you can continue to explore Britain in 21st Century comfort!
So why not add Bristol to your UK itinerary? At Janet Redler Travel & Tourism, we make sure everything is "Ship Shape and Bristol Fashion!"
Other places of interest in Bristol: