Shaun, one of our team, recently enjoyed a half day cookery course learning to create 'Simply Impressive' dishes.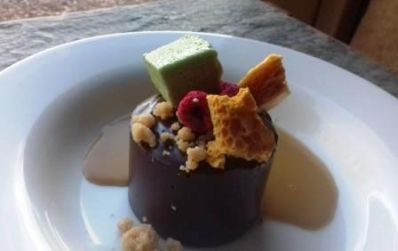 I was lucky enough to receive the gift of a cookery course for Christmas, and since then I had been looking forward to visiting Brompton Cookery School near Shrewsbury.
Brompton is one of many such schools which seem to have sprung up around the country, as more and more of us endeavour to improve our cooking skills – or just enjoy a day out learning something new.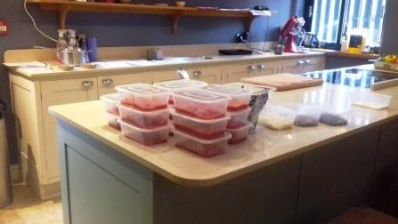 Waiting for the demonstration to begin
The perfect activity for a wet and windy February day, cookery courses like those offered at Brompton cater for individuals and groups alike, offering a wide range of full and half day sessions, whether that's bread-making, tapas, vegetarian, desserts or the 'Simply Impressive' course I went on, which was all about creating delicious eye-catching meals, without too much hassle.
About a dozen of us of all ages, from early twenties upwards, turned up early on a Sunday morning to the cookery school, which is located in a splendid old farmhouse in the lush Shropshire countryside. There were pots of steaming hot coffee and freshly made tea waiting for us on arrival, as we warmed up and chatted to each other.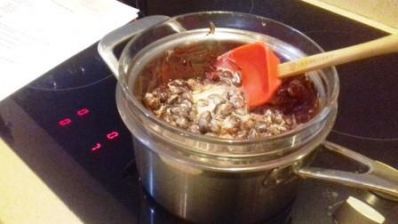 Preparing chocolate mousse
Our teacher was local celebrity chef Marcus Bean, who runs the cookery school, and there was an air of excitement as we put on our aprons before being called through to the kitchen.
The state-of-the-art facility is spacious with well-equipped workstations, but of course before we could get started, we had to find out what we were cooking, so we all gathered in the demonstration area. Marcus welcomed us and told us about the plans for the morning. We were to create two courses – a main and a dessert – which we would then sit down and enjoy for lunch, with any leftovers packed up to take home with us.
The dessert was to be a chocolate mousse, with honeycomb and other delicious toppings, and we started by making this, as it needed time to chill before lunch. Marcus explained about the different types of chocolate and which were best for this sort of dessert, before showing us how to make the mousse.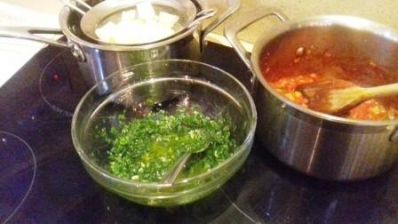 Preparing the sauces to go with our main course
Then it was our turn, so we all headed back to our workstations with our recipe sheets, trying desperately to remember everything we had been told. As a wheelchair user, I was particularly impressed that there was a dedicated workstation, set at a lower level, which made it easier for me.
Once we had conjured up our chocolate desserts and set them aside to chill, it was time to find out about the main course, so we all headed back to the demonstration area.
Main course turned out to be salmon fillet with crispy skin, served with a tomato ratatouille, salsa verde and crispy diced potatoes. Again, we watched how to prepare everything, before returning to our workstations to have a go.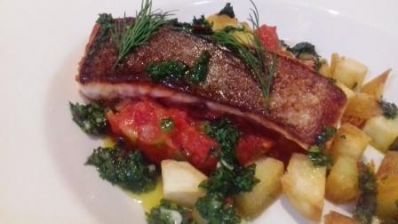 Salmon fillet with crispy skin - and all the trimmings
I think what stood out for me about the course was that we were able to create reasonably simple dishes in a way that made them special. This was especially true when it came to presentation – which is so easy to overlook when cooking at home – and we all took away some great tips and ideas on how to serve things nicely.
Once the cookery was complete and we had all taken photos of our creations, we headed into the dining room to devour what we had made – and we were all definitely getting hungry by this stage. We were treated to a complimentary glass of prosecco with lunch, which helped make it even more special.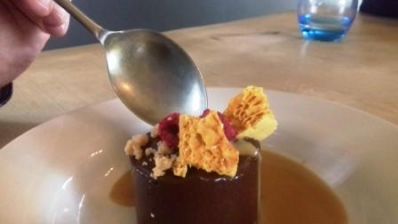 The chocolate mousse made a delicious dessert
I think these courses are a great way for anyone interested in cookery to pick up new skills and to enjoy a fantastic experience with like-minded people – regardless of how well you can, or would like to be able to, cook. For me, it was extremely good fun and a rewarding way to spend a morning.
Janet Redler Travel & Tourism offers a wide range of tailor-made foodie tours for all interests and abilities, which can include hands-on experiences at some of the UK's top cookery schools. If you or your group would like to enjoy a food and drink tour customised to match your interests, please do contact our friendly team today.