Janet Redler and Pam Coutts recently attended VisitScotland Expo 2017 - here is Pam's blog about her visit to Scotland.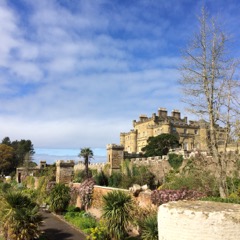 Culzean Castle
The two day VisitScotland Expo was an excellent, compact and do-able event, which took place at the Scottish Exhibition Centre in Glasgow and featured the very best of Scotland. There were so many astounding castles on show that I really want to visit them all, many distilleries (whisky and gin) and every attraction, transportation mode and foodie stand you could think of!
Our first two nights' accommodation were in the Glasgow Marriot - a large chain hotel which catered for our needs and was perfect for central Glasgow and the many excellent shops there.
On the Friday I was off to Ayrshire. Here we stayed in The Waterside Hotel in Seamill - a fabulous hotel on the beach, with beautiful gardens from where we could watch the sunset over the Isle of Arran. Just magic!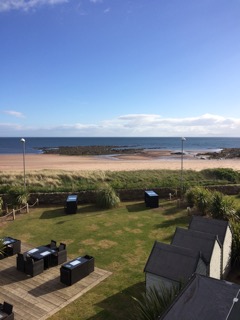 The hotel's huge bedrooms were well designed and laid out with a multitude of quirky/funky bits and pieces. There was a fabulous nautical theme throughout the hotel and a seafood beach house with fish as fresh as it gets. Loved it! It was very special on the beach at 7am the next morning - on my own with a host of wildlife and miles and miles of sand and sun.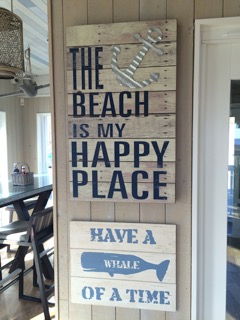 We then set off to Culzean Castle (pronounced Cul-ane). Culzean Castle overlooks the firth of Clyde on the Ayrshire coast. Now owned by the National Trust, it was once the home of the Marquess of Aisla, chief of Clan Kennedy.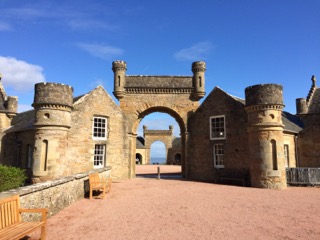 In a beautiful setting overlooking the sea, one of the circular turrets has the most spectacular views of Holy Island and we could just make out the coast of Ireland. The castle is packed with the most incredible artefacts and has been very lovingly restored to its original glory by the National Trust. 
The most impressive part of the castle for me was the entrance foyer, which housed 1500 used firearms - pistols and rifles which covered every inch of the walls! In its day, guests would be left waiting there - how very intimidating! The gardens will be spectacular when in full bloom and there is a restaurant and shop at the entrance. Just one of the most impressive castles ever.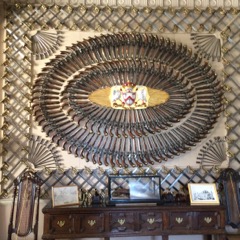 Our next stop was Alloway - the birthplace of Robert Burns - and what a welcome we had! Piped in by the resident piper in full Scots regalia and no other than Robbie Burns himself (aka Hugh!). We enjoyed a tour of the museum, which is very well laid out, and a tour of the humble thatched cottage where Burns was born. It must have been a very tough life, but such an erudite young man was more than capable of taking on the courts and lawyers and fighting his cause and winning. The lunch was a traditional 'Robert Burns Supper' and was absolutely first class. Hugh instructed the piper and a member of our group to pipe the Haggis in and out! I just love tradition!
Back on the bus, we headed to New Lanark World Heritage Site. once the home of Robert Owen, a social reformer originally from Newtown in Wales, who transformed the lives of many children and their families, providing them with a decent standard of living, an education and a decent home to live in. The cotton mills are the most impressive sight and still working, in fact, the whole site is fairly self sufficient and generates £250,000.00 of excess electricity from the river to sell back to the National Grid. The New Lanark Trust also bought an ice cream factory recently and that was lush!
All in all, it was a whistle stop tour of a wonderful area - we met such lovely people and Scotland is now one of my favourite places!
If you or your group would like to enjoy a tailor made tour of Scotland, please do contact Janet Redler Travel & Tourism.