Our Chief Executive Janet Redler recently spent a couple of days in Manchester visiting some of the city's leading attractions. Here are her thoughts on the visit.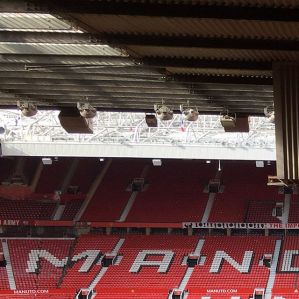 Manchester is perhaps most famous for its soccer team, so what better way to start a tour of Manchester than with a visit to Old Trafford, the home of Manchester United Football Club. We enjoyed a guided tour of the stadium and learnt a lot about the history of the club, but the highlight was, without doubt, walking out of the tunnel to the edge of the pitch, following in the footsteps of so many footballing greats – George Best, Bobby Charlton, David Beckham… Manchester is also home to the National Football Museum, which is well worth a visit for fans of 'the beautiful game'.
Manchester Cathedral has been centre stage in the city's history for nearly 600 years. In 1421 Henry V signed a royal charter granting permission for a collegiate church to be built. In 1847 a new Manchester diocese was created and this historic church became a Cathedral.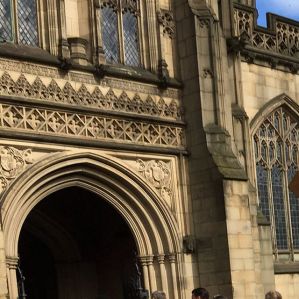 This Grade I listed masterpiece has not only provided a stage on which the city of Manchester's compelling history has been played out, but also provided some of the leading actors for this narrative. Century after century the stone walls have survived wars and bombings, as well as Henry VIII's reformation; they have witnessed the birth of the world's anti-slavery movement and lived through the Industrial Revolution first hand.
Manchester is blessed with two fabulous art galleries. Manchester Art Gallery is housed in a complex based around Sir Charles Barry's splendidly designed buildings, the Royal Manchester Institution and Manchester Athenaeum. The museum contains art spanning six centuries but is most famous for 19th century British paintings and particularly its outstanding collection of Pre-Raphaelite works.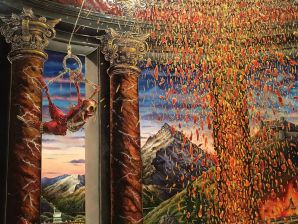 The Whitworth Art Gallery, which contains around 55,000 works, won VisitEngland's gold prize for Large Visitor Attraction of the Year in 2016. It is notable for its collections of watercolours, sculptures, wallpapers and textiles and its gallery focuses on modern artists. I so much enjoyed the work of artist Raqib Shaw (pictured above).
The City of Manchester is adjacent to the smaller City of Salford, home to the region's most famous 20th century artist, LS Lowry. The Lowry at Salford Quays, a striking waterside development, now houses the largest collection of his works in a purpose-built gallery. The Lowry also includes two modern theatres and we enjoyed a hilarious Alan Ayckbourn farce when we were there. A short stroll over a bridge across the Manchester Ship Canal takes visitors to the nearby Imperial War Museum North, which explores the impact of modern conflicts on society.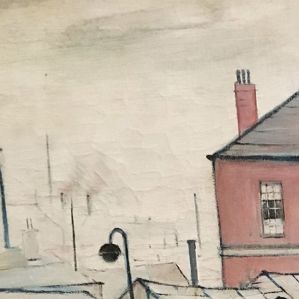 So, all in all, I would highly recommend a visit to Manchester, either as part of a wider tour of England or the UK, or indeed in conjunction with another famous city, Liverpool, which is less than an hour away. In addition to the museums, galleries, sporting venues and historic buildings, Manchester now boasts one of the best shopping destinations outside of London, including world-famous retailers such as Harvey Nichols and Selfridges. There are numerous first-class restaurants, bars and coffee shops and a huge range of hotels to suit all budgets. Manchester really is magic!
If you or your group would like to enjoy a visit to Manchester on a tailor-made tour of England or the UK, please do contact us today.