St Patrick's Way is an 82 mile (132km) walking and pilgrimage route between the historic cities of Armagh and Downpatrick in the south of Northern Ireland. It connects key sites relating to Saint Patrick, the patron saint of Ireland, and passes though some of Northern Ireland's most beautiful countryside.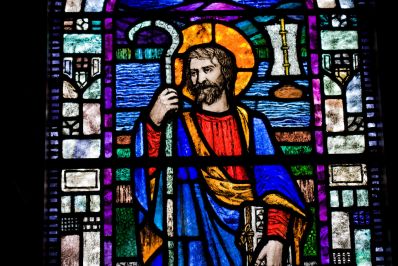 Saint Patrick in a stained glass window at Saul Church © Tourism Ireland
Linking the two places most strongly associated with Saint Patrick, the trail begins just outside Armagh City, winding through beautiful landscapes and historic sites, to end at Saint Patrick's final resting place at Down Cathedral in Downpatrick.
Born around AD 400, near the west coast of Roman Britain, Saint Patrick was a missionary who brought Christianity to Ireland. Arriving in Ireland as a slave at the age of 16, Patrick tended animals, possibly on Slemish Mountain in County Antrim, in the north east of Northern Ireland. After escaping his captors and travelling to England and France, Patrick studied to become a cleric. Patrick returned to Ireland in AD 432 as a missionary.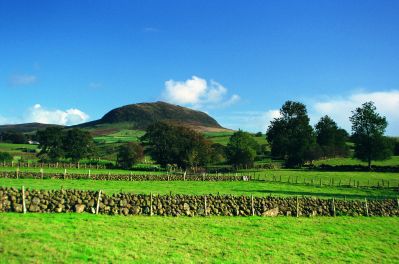 Slemish Mountain, County Antrim
Saint Patrick brought his boat ashore at the mouth of the Slaney River, on Strangford Lough in County Down, and went on to establish Ireland's first Christian church at Saul near Downpatrick. His name and legacy are linked to many spiritual sites in the area.
St Patrick's Way takes in a variety of terrain, from rolling hills to canal towpaths, with a combination of off-road and on-road trails. With plenty to do and see along the way, there are also many cafés, restaurants and picnic sites for refuelling, as well as places to stay.
Armagh, the spiritual centre of Ireland and its oldest city, is the starting point for exploring Saint Patrick's life and legacy. Patrick established Armagh as a great seat of Christian learning and the present-day Church of Ireland Cathedral stands on the sacred hill in Armagh where Patrick built a stone church in AD 445.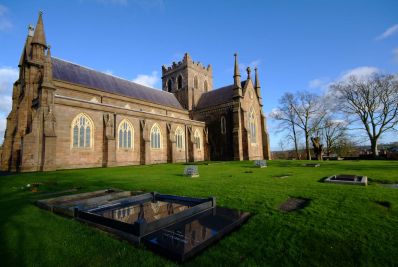 St Patrick's Church of Ireland Cathedral in Armagh (photo courtesy of Tourism Northern Ireland)
Fittingly called the 'Orchard County', Armagh has 4,000 acres of apple orchards. Beautiful pink blossom adorns the trees in May at the start of apple season. Saint Patrick himself planted an apple tree at Ceangoba, an ancient settlement east of Armagh.
Leaving Armagh, St Patrick's Way takes a scenic route through the stunning Mourne Mountains, through beautiful forest to the seaside town of Newcastle, through the untamed landscape of Murlough Bay Nature Reserve, by Dundrum Castle, Tyrella Beach and finally to Downpatrick.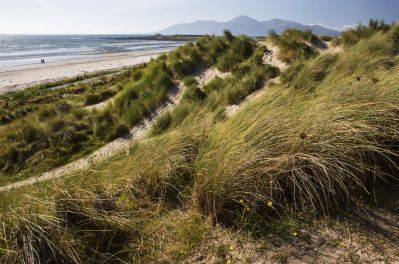 Tyrella Beach, County Down © Tourism Ireland
Some of the sites associated with Saint Patrick that pilgrims and walkers alike can enjoy along the way include the following.
The Saint Patrick Centre in Downpatrick, the only permanent exhibition in the world dedicated to telling the story of Saint Patrick. A must-see for travellers with an interest in Christian Ireland.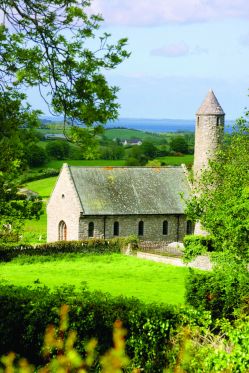 Saul Church © Tourism Ireland
Saul Church, on the first ecclesiastical site in Ireland, which was given to Saint Patrick by a local ruler. For more than 300 years, following Patrick's death here, an abbey stood on the site, until it was pillaged and destroyed by the Vikings. The present church was erected in 1933 to commemorate the 1500th anniversary of the landing of Saint Patrick.
Slieve Patrick, a hill on the outskirts of Saul, is home to the tallest statue of Saint Patrick in the world. The granite statue was also built to commemorate the 1500th anniversary of Patrick's return to Ireland.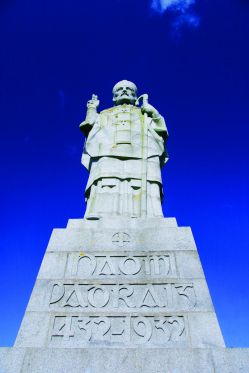 Slieve Patrick statue © Tourism Ireland
Among the first holy wells in Ireland, and blessed by Patrick when he arrived in Down, timeless Struell Wells has attracted pilgrims since at least the Middle Ages.
Down Cathedral in Downpatrick was built on the ancient hill of Down in the 12th century and has been a place of pilgrimage for over 1500 years. Saint Patrick's Grave lies to the left of the church in the little cemetery and is marked by a huge granite gravestone.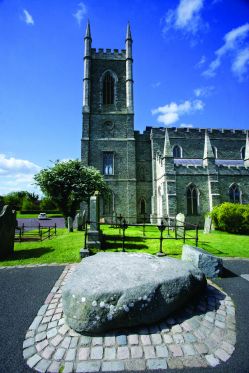 Down Cathedral and Saint Patrick's Grave © Tourism Ireland
If you or your group would like to enjoy a tailor-made walking tour or pilgrimage following St Patrick's Way, please do contact our friendly team. There is of course no obligation to walk the whole route and we can tailor your itinerary to the time you have available and the interests of your group. Why not combine your walking tour with a visit to some of Ireland's finest cities, such as Dublin or Belfast?