There are hundreds of fabulous gardens to visit all over Britain, from small traditional cottage gardens to huge country estates with sweeping landscapes. The temperate British climate provides the ideal growing conditions for many flowers and plants, with warm summer days and a plentiful supply of rain throughout the year. While you may never be far from a rain shower in Britain, it is of course the rain which keeps the gardens looking so green and lush! Here is just a small selection of our favourites.
Kew Gardens, London
The Royal Botanic Gardens, Kew, more usually referred to as Kew Gardens, is one of Britain's best known landmarks and most popular visitor attractions. The perfect starting point for a garden tour, Kew Garden's is London's largest UNESCO World Heritage Site and houses one of the world's greatest and most diverse collection of living plants.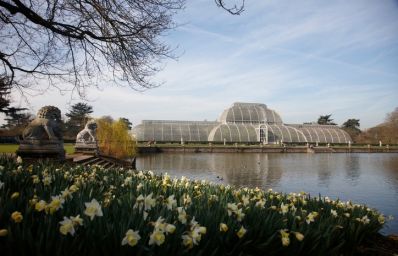 The Palm House at Kew Gardens © VisitBritain / Joanna Henderson
Highlights include the iconic Palm House, a glasshouse built in the 19th century which is renowned for its amazing tropical plant collection; the Princess of Wales Conservatory, which explores the plants of the world, and the Great Broad Walk Borders, which boast over 60,000 outdoor plants. Visitors can also enjoy Kew Palace, the summer residence of King George III, and climb the distinctive 18th century Great Pagoda, pictured below, for spectacular views across London.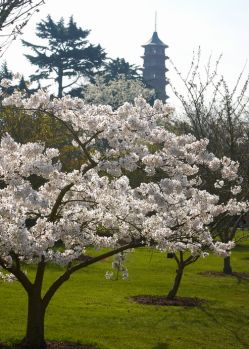 Great Pagoda with cherry blossom © VisitBritain / Joanna Henderson
Sissinghurst Castle Garden, Kent
Sissinghurst Castle Garden is one of Britain's best loved gardens. Created by poet and writer Vita Sackville-West and her husband Harold Nicolson over 30 years from the early 1930s, the gardens are traditional English in style, and particularly famous for their 'garden rooms'. Known for its exuberant colour throughout the year, Sissinghurst highlights include the world-famous Rose Garden and the White Garden.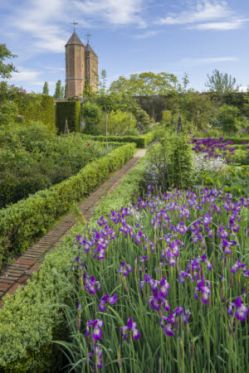 Sissinghurst Castle Garden © National Trust Images / Andrew Butler
Visitors can stroll through a series of enclosed spaces or garden rooms, each styled and planted in a different way, with views of small hidden spaces or long vistas at every turn. One of the most influential 20th century gardens, Sissinghurst boasts many rare plants alongside English cottage garden favourites.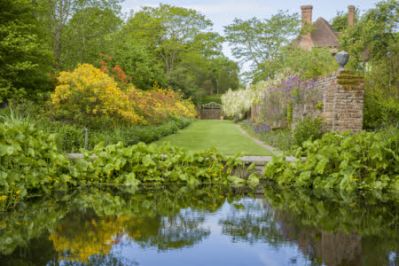 Sissinghurst Castle Garden © National Trust Images / Andrew Butler
Bodnant Garden, North Wales
Bodnant is a majestic hillside garden overlooking the mountains of Snowdonia National Park in North Wales. Founded in 1874, the garden spans 80 acres and includes formal Italianate terraces, informal shrub borders bursting with plants from around the world and The Dell, a woodland valley garden. It is perhaps most famous for its laburnum arch, the longest in the UK, which flowers each May and June.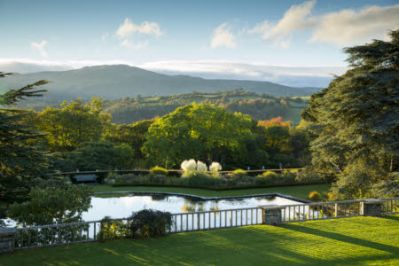 A view of the Lily Terrace and Pool at Bodnant Garden © National Trust Images / John Miller
Bodnant is recognised for its internationally important collections of plants and shrubs collected from all over the world in the late 19th and early 20th centuries. Home to National Collections of plants including Magnolia and Rhododendron, Bodnant is also known for its 22 'Champion Trees', trees noteworthy for their age, size or significance. In fact, the planting at Bodnant is so diverse that it is well worth a visit at any time of year.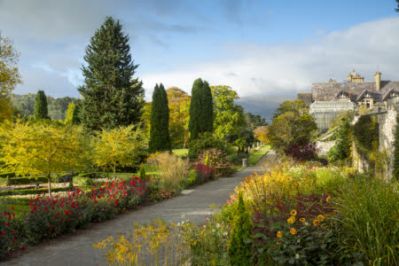 Herbaceous borders at Bodnant Garden © National Trust Images / John Miller
Mount Stuart, Isle of Bute, Scotland
Mount Stuart is a glorious garden on the Isle of Bute in Scotland. Set against the dramatic backdrop of the Firth of Clyde, 300 acre Mount Stuart is home to a magnificent collection of exotic and native plants and flowers. Not to be missed are the 19th century Rock Garden with its unique Victorian water features; the Wee Garden, a secret corner of the grounds perfect for quiet reflection, and the Kitchen Garden, bursting with home-grown produce, as well as chickens and bees!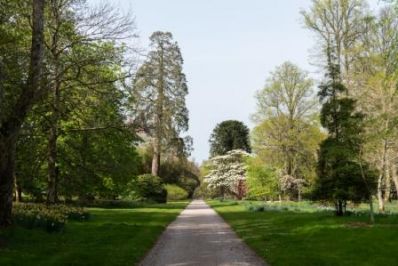 Mount Stuart © VisitScotland
From spring's rhododendron and magnolia blooms to autumn's golden birch and scarlet maple trees, visitors can expect a colourful show all year round. The gardens are complemented by Mount Stuart House, described as Britain's finest Victorian Gothic style house, which is the ancestral home of the Marquesses of Bute.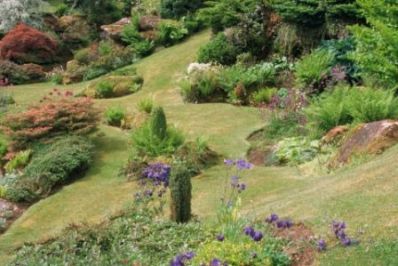 Mount Stuart © VisitScotland
RHS Garden Wisley, Surrey
The Royal Horticultural Society's garden at Wisley, in the English county of Surrey, south of London, is another one of our favourite gardens. The Royal Horticultural Society is Britain's leading gardening charity, and its gardens, including the one at Wisley, help to give inspiration as well as providing a centre for scientific research.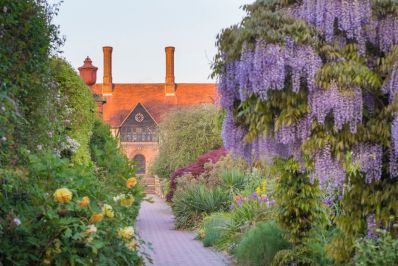 Wisteria in spring at RHS Garden Wisley © RHS / Joanna Kossak
The Mixed Borders are probably the most celebrated area of the garden at Wisley, but some of the many other highlights include the Bowes-Lyon Rose Garden, an inspirational contemporary rose garden; Oakwood, the most historic part of the garden dating back to the 19th century and a focus for plants that thrive in damp and shady places, and the Jellicoe Canal and Wisteria Walk, perhaps the most iconic image of Wisley.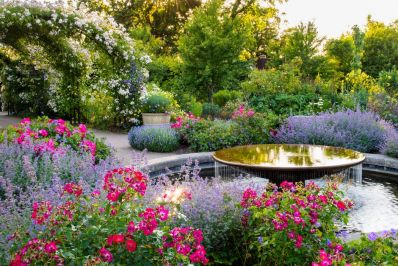 The Cottage Garden at RHS Garden Wisley © RHS / Joanna Kossak
Whichever part of Britain you choose to explore, at whatever time of year, you can be sure to discover at least a few sensational gardens to enjoy. Janet Redler Travel & Tourism has been delivering first class garden tours, designed by our garden experts, for many years, so we are well-placed to create the perfect tailor-made tour to meet the needs and expectations of your group.