In our latest blog, Shaun, a wheelchair user, takes the high speed ferry from Ireland to Wales.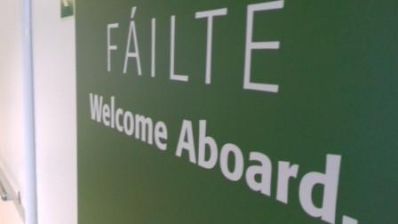 For a long time, one of the few ways to travel overseas was by boat and even today there are still literally thousands of passenger ships and boats transporting travellers between destinations. These range from the multi-thousand tonne cruise ships to passenger ferries criss-crossing the waterways of the world.
Travelling by boat can be a great way to slow down your travel and move at a much more sedate pace, providing the time to savour your new surroundings but for many people – especially those with more limited mobility – ferries are a convenient way to travel, especially for short haul journeys.
In July, I travelled aboard the Dublin Swift fast ferry from Dublin in Ireland to Holyhead in Wales. This is just one of the many ferries – some fast, some slow – which operate on a handful of routes across the Irish Sea, to-ing and fro-ing between Ireland and Great Britain each day.
Arriving by car at the ferry terminal check in, we were greeted by a very friendly agent who gave us our boarding cards and explained which lane to park in ready for boarding. We had a twenty minute wait here and left the car to go into the terminal building for a quick cup of coffee. The terminal building is like terminal buildings the world over. Functional.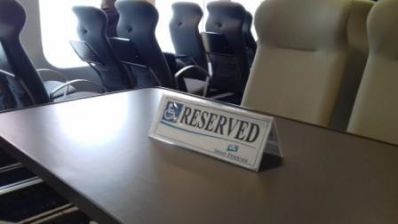 It wasn't long before we were being directed onto the boat and to a parking area near to the boat's internal lift. I use an electric wheelchair so once out of my car I was able to wait for a lift up to the large, modern and bright passenger deck. Here, I asked a very friendly member of crew if there was allocated seating for wheelchair users and he showed us to a table with a chair removed, which was perfectly situated near to a window and the ship's café.
We decided to get a meal straight away – a nice vegetable Thai curry, not very Irish, I know. It was very tasty but fairly expensive, perhaps to be expected with a captive audience.
The weather was a bit grey on the day we travelled but the sea was really calm – Dublin Swift can be cancelled if the water is too choppy – and once out of the channel to Dublin Port the ferry lived up to its name and sped across the water towards Wales.
Inside the fast ferry, there is a shop, free wi-fi, bar, café and a few slot machines to keep you amused through the two-hour journey. There is even a club class area if you want a more exclusive experience.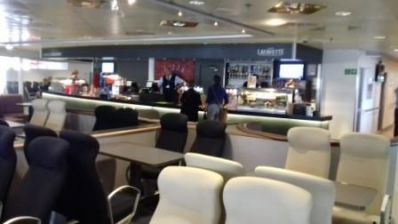 There is a dedicated disabled toilet at the rear of the ship which, in my view, could have been better laid out, but was more than adequate for our short crossing.
Overall, the crossing was very pleasant and gave us a great opportunity to look out the window at the sea birds and the odd passing boat.
Travelling in a modern ferry such as the Dublin Swift is a far cry from some of the old ferries I remember and has many benefits to wheelchair users, not least because you can take all the equipment you need with you – much more difficult on a short haul flight.
Disembarkation went really smoothly and only 15 minutes from leaving the passenger deck we were out of the port of Holyhead and into Wales, ready to explore.
If you, or members of your group, have reduced mobility, we can put together a tailor-made tour of the UK and Ireland which accommodates your accessibility requirements. Please do contact us today to discuss your needs.