Sometimes it's time to get off the well beaten track and slow things down a little. Take some time to experience the beauty found in nature, with its wide open landscapes and abundant wildlife. Time to discover something new about the history and heritage of those people living in what is now a protected national park landscape. Today we are in the East of England, in the Broads National Park.
You can reach the Broads from London in just two hours by rail or road and international travellers can use Norwich Airport. There are good rail and bus links once you arrive. Public transport is a fantastic option to reduce your carbon footprint and congestion on the roads.
The Broads National Park – a watery wonderland, home of Britain's largest protected wetland. Its shallow lakes were dug out in medieval times – the peat removed and used for fuel. For centuries afterwards it was assumed that the Broads had been formed by natural processes – their true origins not being rediscovered until 1952.
Outside of the summer season, there is even more to see – migrating birds arriving from colder climates, otter sightings and a changing landscape. The Broads offers a range of experiences well suited to extending your travelling season, perfect to take the pace down even more.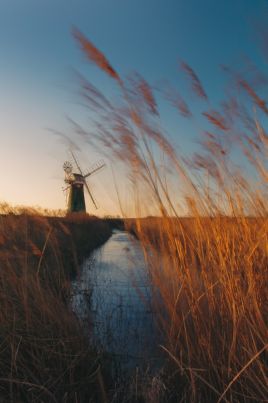 St Benet's Level drainage mill © Tom Barrett
The East of England is bursting with locally grown and carefully produced food and drink, wrapped up in a long and exciting history that is celebrated today by local businesses offering authentic experiences, characterful accommodation and a dynamic calendar of festivals and activities.
The Broads National Park is the only English National Park to host a city within its boundary, linking and telling the stories of its people throughout this unique landscape.
Vibrant Norwich – The City of Stories; its Norman Cathedral built in the 11th century at its heart – boasts Medieval buildings and a bustling Marketplace and Castle, founded for William the Conqueror after 1066.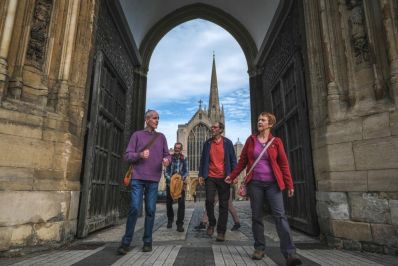 Enjoy a walking tour of Norwich © Daniel Wildey
Norwich is a city of foodies; in the centre of a large farming county, it enjoys the spoils of local produce. From fresh meat and veg, to seafood and fish sourced locally from its scenic shores, as well as a plethora of local breweries and distilleries crafting local beers and artisan gins and spirits.
The Broads are a haven for wildlife. Whilst comprising only 0.1% of the UK, the area boasts more than 25% of its rarest species. The swallowtail, Britain's largest butterfly, calls the Broads – and only the Broads – home.
Pleasure boating has been part of the way of life here since the 19th century and the National Park is still one of Europe's most popular inland waterways, whether you're a water baby or a land lubber, taking to the water in the Broads is easy, accessible, and exciting and one of the most slow and sustainable ways to enjoy your surroundings.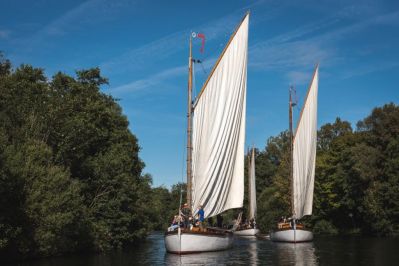 Sailing on a wherry – a traditional yacht unique to Norfolk © Daniel Wildey
The Broads National Park is a perfect place to experience something new; to take to the water, to enjoy local food and drink and to immerse yourself in nature.
There are several ways to truly experience the Broads. Sedately, on its quiet waters, on a 4-hour guided kayak or paddleboard tour that takes you close to nature, or feel the wind in your sails on a half-day 'taster sail' onboard a traditional wooden Norfolk yacht, under the expert guidance of a local skipper. Experience the beauty of the winding rivers, marshes, and big skies, catch glimpses of local wildlife, wind pumps and much more and enjoy a delicious Norfolk Cream Tea aboard your yacht. Alternatively, experience a traditional Broads sailing excursion on board an Edwardian wherry yacht, one of only 3 surviving vessels, each over 100 years old. This experience creates opportunities for small groups to sail, or the whole vessel can be chartered for larger groups.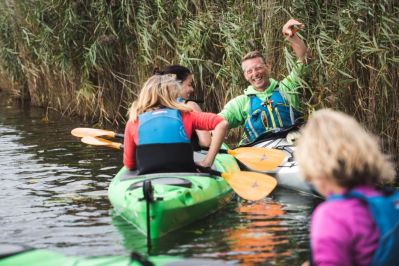 See the Broads by kayak © Daniel Wildey
Or you can experience the Broads by foot, one option is a full-day guided walking tour starting with 'Monks, Mayhem and Murder' in Norwich before taking the train to Reedham, riding on Norfolk's first railway line, dating back to the 1840's. Stop for a spot of lunch in the Broads National Park and spend the afternoon exploring the local countryside with magnificent views across the marshes. Discover some of the rich local history – visit Reedham Church built on the site of a Roman fort and lighthouse and learn about the Broads' historic trading wherries.
Or, try a half-day guided walking tour starting at Fairhaven Woodland and Water Gardens in the heart of the Broads National Park. We walk through part of this beautiful natural Broadland garden, home to the King Oak, one of the oldest trees in Norfolk, before heading off to South Walsham Broad and the path beside the Fleet Dyke. This leads to a view of the 1000-year-old St Benet's Abbey across the River Bure. Hear the story of St Benet's Abbey, before returning to Fairhaven through South Walsham Marshes with some wildlife spotting, then finish with coffee or tea and cake in Fairhaven's picnic area. The walk takes between 2½ and 3 hours and is just over 4.5 miles long.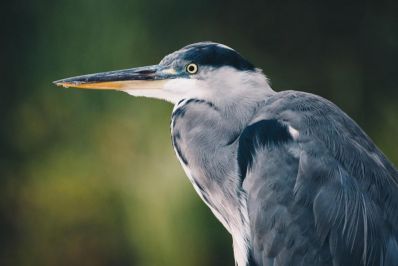 A heron at Barton Turf © Daniel Wildey
There are so many accommodation options to choose from; delightful self-catering and characterful hotels, both in the city of Norwich or in the countryside of the Broads National Park.
Janet Redler Travel & Tourism can build tailor-made itineraries for you or your group. This could be a self-drive or rail tour of the East of England or a shorter tour of just the Broads National Park. Other itinerary ideas include food and drink tours, garden tours, National Park heritage and landscape, ancestry, nature/wildlife, soft adventure or heritage and history. Please do contact the team to discuss your requirements.
Deborah Brookes
Travel Trade Business Support & Development Advisor – Broads National Park