Our newest team member Dawn shares her thoughts on her first assignment with Janet Redler Travel & Tourism, helping to organise a concert for Monaco Boys Choir at the Tower of London.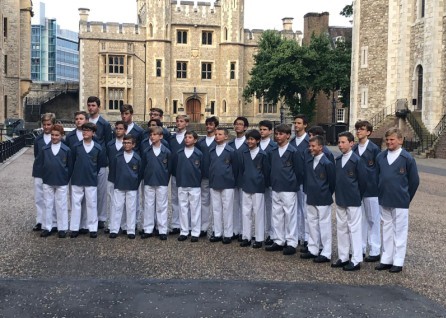 So, I am writing this after reflecting on my first assignment with Janet Redler Travel & Tourism. Les Petits Chanteurs de Monaco (Monaco Boys Choir) is comprised of 30 boys, between 9 and 18 years of age, and is under the patronage of H.S.H. Prince Albert II of Monaco. With the generous support of the Monaco Government, the choir performs charity concerts all around the globe and this time it is the turn of the UK!
My colleague Nick and I first met them on a very warm Sunday afternoon outside the Tower of London. With our excited guests, we headed off for a spot of early dinner before a return walk along the river front to take in the views. 
Uniforms and piano unloaded from the coach only left the mammoth task of getting the 100kg piano the 600 yards to the chapel at the Tower - easy right? Well, what a task it was! Obstacles encountered and overcome repeatedly due to the world-renowned cobbles and steps, the choir managed it with their imagination and ingenuity, ensuring the piano successfully landed at the chapel in working order, with what felt like minutes to spare. No sooner had the boys recovered, then it was straight into a last rehearsal before the opening night of their nine concert tour of the UK.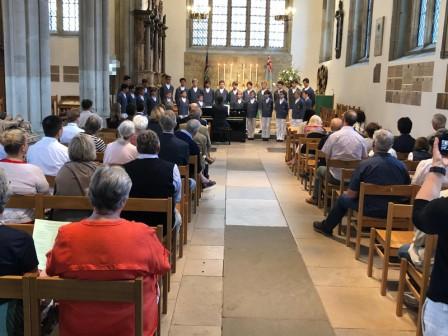 The chapel filled and, with the Honourable Ambassador of Monaco in attendance, it was a superb performance by a very talented and disciplined choir. With the concert finished there was no time to waste. The piano, boys and all guests were required to vacate the Tower grounds before a strict 9pm deadline, in preparation for the Ceremony of the Keys - an ancient ritual that requires all civilians to be clear of the grounds. It has been a tradition that hasn't been missed in 700 years (though was believed to be delayed once in 1940 due to bombing) so, really, no pressure! Luckily, with the speed of 27 excited boys the piano was out in plenty of time.   
Overall, it was a huge achievement on the first night for all involved and I wish the choir every success in their future performances. On a personal note for me, the satisfaction of seeing such a successful event and the smiles on the boys faces, not to mention the exceptional performance, is something I just want to repeat and I am extremely excited about the future for both me and Janet Redler Travel & Tourism.
If your choir would like to enjoy a tailor-made tour of the UK or Ireland, including performances at appropriate venues, visits to the attractions of your choice and with accommodation to meet your budget, please do contact our friendly team today.