No....this is not about soaking up the sun in Southern Spain or Italy - or about the ski slopes of the Alps or Pyrenees.
Christ Church, Dublin, Ireland - www.christchurchcathedral.ie
Sometimes we get the chance to do something quite different. We get to vacation out of season and in places where visitors usually go only in summer months.
Of course, accommodations may not be open - and some of the places we might want to visit may be open only for "winter" opening times.
There's less daylight so we need to plan our time carefully to make full use of shorter winter days. But to compensate there are events that we experience only in winter, 'German markets' throughout England, carol concerts (in and out of doors), 'Father Christmas' touring the streets in his sleigh, Hogmanay in Scotland, the Plygain singing unique to parts of Wales, and the hardy enthusiasts who insist on taking a dip in London's Serpentine lake every week of the year even when the lake is frozen!
And we can be sure of a special welcome in the thousands of great hotels, guest houses and B&Bs which do stay open 52 weeks of the year - and at the castles, palaces and historic houses which are everywhere in Wales, England, Scotland, Ireland and in mainland Europe.
There's nothing quite like Ireland's Dublin or Powis Castle in Wales, Chatsworth House in Derbyshire or Edinburgh Castle in Scotland all dressed up for the Winter season....log fires, light displays, holly, Christmas decorations and of course traditional winter treats like mulled ale (see our own favourite recipe by scrolling down), mince pies and hot punch! Our friends in Scotland are quite sure the Scotch tastes even better in the months between November and March!
Add a sprinkling of snow, some special winter sunshine and a brisk walk.....there's nothing like it!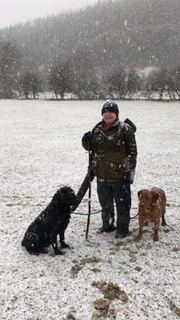 A walk around Lake Vyrnwy in mid-Wales is magical in the snow
And all the great pubs, wine bars and restaurants are especially welcoming on a chilly winter's evening.
Those of us who live in Northern Europe have loved our winters for decades - but we're more than willing to share them with our friends who come visiting at this special time of year!
For that special winter vacation in Europe.......get in touch with us here at Janet Redler Travel & Tourism. If there are special places or events you want to include in the trip - or if you'd just like some great suggestions....Relax..you can do no better! 
Our favourite mulled ale recipe
Mulled Ale
1 pint of ale
1 dessertspoon of brown sugar
2 tablespoons of brandy
½ teaspoon of mixed spice
Two slices of orange
Heat all the ingredients together but do not bring to the boil.
Pour straight into glasses or pour into a warm bowl.
Cheers!